Spooky Songs by Scary Singers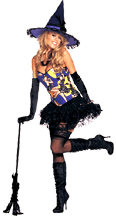 Something a bit special from the team at
Wireless Waffle
as we bring you a list of a hundred horrible Halloween hits. Initially published to celebrate the release of the 'moonlight' channels to radio amateurs in the UK, this list remains here for no particular rhyme or reason. It's just a collection of ghastly, ghoulish songs to darken any party.
Before you get upset about the fact that your favourite ghoulish song is not on the list, then don't, as there are probably a thousand more songs that would be appropriate for playing on October 31. Also, each artist is only featured once, even if they had multiple hits with the appropriate level of deadliness and doom (otherwise the list would be dominated by the likes of Iron Maiden!) What's more, only songs with a vaguely Halloween theme are included, as opposed to any bands whose names are of a grim and fiendish demeanour, otherwise there would be a myriad of heavy metal bands whose names alone would put them on the list (e.g. Angel Witch, Grave Digger and Grim Reaper).
You can download almost all of these files in mp3 format from
Amazon
and the links are provided for you. There are also links to YouTube where you can watch the video, now how helpful is that?
OK, so there are over 100 in total, but just (trick or) treat that as something for nothing and be scared, very very scared, because when did anyone ever give you anything for nothing before...!
add comment
| page views 4894 | last visit 19:09 GMT, 20 Feb