Mad Hatters

According to an article in yesterday's London '
Metro
' newspaper, experts from the highly respected Massachusetts Institute of Technology (MIT) have spent about US$200,000 showing that aluminium hats, similar to those worn by Mel Gibson in the film 'Signs' serve to reduce radio signals at most frequencies, but that some frequencies were amplified by the shiny metal toupees.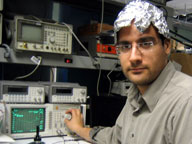 The report '
On the Effectiveness of Aluminium Foil Helmets: An Empirical Study
' went on to show that the frequencies which were amplified were ones which had been allocated to the US Government and thus concluded that this was some kind of conspiracy to conduct mind control of US citizens.
However the truth about the MIT study is rather different. The students used equipment worth US$250,000 (rather than spending that much) in the form of a network analyser to determine the gain of the 'hat' at different frequencies. They concluded that the hats had peaks in gain at 1.2 and 2.6 GHz (not surprising if one does a few simple sums concerning the typical size of a human head and the frequency at which such hats would naturally resonate) and went on to conclude that as the first of these frequencies was used by GPS satellites broadcasting Government signals from the sky, that the hats may well
increase
the Government's invasive abilities.
If this were to be the case, then the US Government would have to emit high power 'mind-altering' signals on those frequencies. However, much more importantly, they would have to make all the citizens wear silly aluminium hats, which as far as I am aware is not yet mandatory (except, presumably, at some of the more wacky parties at MIT!)
Further, GPS satellite signals are very weak compared to the extremely high-powered

aeronautical radar systems that share the frequencies around 1.2 GHz, so if any signal were likely to affect the wearer it would be those coming from the radars at airports (and the corresponding transponders on aircraft). Aeronautical radars (both civil and military) also occupy frequencies beginning at 2.7 GHz (very close to the other measured gain hot-spot).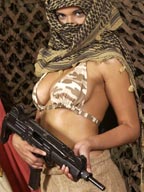 Could this explain the increase in the number of air travellers around the world? Or might it explain why, after a long flight, you feel dazed as you depart the airport? Or is this a conspiracy to increase the sales of duty free?
Why not try wearing one of the hats the next time you visit an airport and see if you can note any unusual effects? Remember not to take it off when you pass through the airport scanners, otherwise the experimental value of the research will be lost. Wearing camouflage, a head scarf and carrying a replica AK-47 are also known to enhance the effectiveness of such airport-based experiments and often make the results more immediate and obvious.
add comment
( 1162 views ) |
0 trackbacks
|
permalink
|





( 3 / 3925 )