BBBBCC Rraaddiioo Ssccoottllaanndd

Friday 9 December, 2011, 15:17
Posted by Administrator
It seems that it's not just
Rraaddiioo Nneeddeerrllaanndd
that suffer from an echo on transmissions. It was a
dreich
day and being concerned for relatives who live in Northern Scotland, last night the
Wireless Waffle
receiver was tuned to
BBC Radio Scotland
on 810 kHz.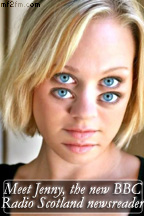 The 810 kHz service is transmitted from three stations, two high powered (Burghead and Westerglen) at 100 kW a piece, and a lower powered fill-in at Redmoss at 5 kW. From the south of England, only the two higher powered stations are audible and during the evening are pretty much at similar strengths and lo! and behold, there was an annoying echo
echo
on the signal.
Where multiple transmitters operate on the same frequency, it is as important that the audio feeds are synchronised as it is that the transmission frequencies are. Where both can be received at similar signal strengths, any difference in frequency between the two causes an audible
heterodyne
(a.k.a. whistle) to be heard. If the audio is not synchronised, an echo can be heard. Any difference in audio delay between the sites should typically be kept below a few tens of milliSeconds if the resulting echo isn't to cause a loss of intelligibility.
There are many reasons why transmitters may have audio feeds that are not synchronised. For short-wave services, the feeds may be on completely different routes. This became a bigger problem for international broadcasters when short-wave feeder transmitters were replaced by satellites. For many years, the
BBC World Service
maintained a 24 hour English language service on
6195 kHz
(these days it is used for a variety of different languages and is shared with other broadcasters too). In those halcyon days, different transmitters around the world were used to maintain the frequency and typically sites in the UK, Middle East and Singapore would share the honours. At times, however, some of these transmitters may be on at the same time. It was not uncommon for Singapore and one of the UK sites (eg Skelton, Woofferton or Rampisham) to be transmitting English language programmes at the same time. But Singapore was fed via satellite and Rampisham by direct land-line. The result - 'The news
the news
read by Damien
read by Damien
Trellis
Trellis
' - over most of the world inbetween the two sites. This was eventually resolved by adding in a delay to the UK feed at Bush House to bring the networks back into alignment.
It's a shame, therefore, that BBC Scotland haven't learnt the lessons of their sassenach colleagues and got their own delays sorted out. Not least, the national DAB network has to be synchronised to within microSeconds so sorting the medium wave network out ought to be child's play.
As they say in Scotland, 'Whit's fur ye'll no go by ye!'
add comment
( 1225 views ) |
0 trackbacks
|
permalink
|





( 3 / 23366 )