Putting pirates to good use

This week,
Wireless Waffle
took a rare trip to the far reaches of the UK. Or Birmingham to be precise. To be even more precise, the motorways surrounding the UK's second city, whilst en route to elsewhere. The journey gave the opportunity to do a bit of tuning around the FM band to see what's happening in the West Midlands these days. Other than the various commercial stations (including local regional stations
Touch FM
and
Free Radio
), and a handful of community stations (including some in neighbouring Coventry), the thing that was most different to the airwaves in the South East was the absence of much in the way of
pirate radio
.

Only two pirate stations were heard during the journey:
A bit of desk-research has yielded the fact that there arpparently three other stations that are often on the airwaves in the area, including:
None of these were heard though.
It's probably about time that Wireless Waffle stopped banging on about pirate radion stations, after all it's now just a year shy of the 50th anniversary of the
Marine etc Offences Act
whose purpose was primarily to bring down the original pirate stations of the day. The fact, however, that such stations continue to abound suggests that the mainstream UK radio market is failing certain sections of society, which appear to be certain ethnic minorities (Caribbean, African and Turkish in particular) and those who like gruff-beat, wacka-jam and gutter-beat music (or genres with similiarly bizarre titles). It's also clear that Ofcom's efforts to take the stations off-air is not having the desired effect (meaning 'to force pirates off-air').
Information on enforcement activity
released by Ofcom under the freedom of information act reveals, for example, that between 2007 and 2012, Kriss FM had its transmitters taken off-air by Ofcom 17 times and its studios raided 6 times. Hot92 had its transmitter raided 42 times and its studio raided 3 times. Sting had an astounding 60 transmitter raids (and 3 studio raids) over the same period.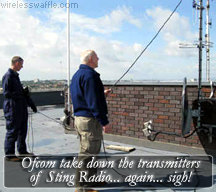 We recently discussed the idea that pirate radio could move to small-scale DAB radio services, or conversely that the closure of regular FM services might open up the FM band as a playground for even more pirates. But could there be yet another option... If Ofcom were to cease all enforcement activity on pirate radio (except in casese where it was causing interference to safety-of-life services) and let the illegal broadcasters run riot, the amount of intereference they would cause to legitimate stations would increase and this might be the incentive needed for those listeners to finally go out and buy a digital radio! So instead of continued enforcement, why not leave the pirates alone and see if that has the desired effect (in this case meaning 'forcing a move to digital radio').
add comment
( 226 views ) |
0 trackbacks
|
permalink
|





( 3 / 2138 )
Is the UK overpaying for the digital dividend?

Some time ago,
Wireless Waffle
discussed the various bidders to provide the television transmitter network for the UK's fledgling local TV stations. As part of this, the company responsible for providing the transmitters and masts for all of the other UK digital terrestrial television stations,
tax evading
transmitter supremos
Arqiva
, provided indicative figures for the costs of building the local TV transmitters. Their '
Reference Offer
' details, on a site-by-site basis, the costs, as Arqiva saw them, of providing the requisite service together with the cost of providing 'network access' only (e.g. the rental of space on their masts). The figures vary by a factor of about 8 to 1 between different sites. But to what extent are Arqiva beefing up the actual costs to make a profit on their largely monopolistic position?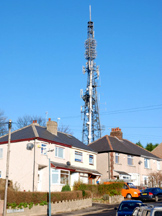 Maybe an example would be useful, so let's consider their proposals for the Sheffield transmitter, one of the cheapest in their offer. Their prices are as follows:
GBP 147,397 one-off costs, and;
an annual fee of GBP 17,783.
The one-off costs include site planning, preparation and installation, antennas, transmitter and multiplexer and the annual fees include rental of the site, a management fee, electricity, rent, light and heating.
According to Ofcom's
local TV feasibility study
, the technical details for the Sheffield site are:
Frequency: Television Channel 55, vertically polarised
Transmitter power: 100 Watts e.r.p. requiring a transmitter output power of 28 Watts (taking into account antenna gain and cable loss)
Antenna height: 43 metres
Antenna type: 2 x log periodic on a bearing of 110 degrees
Let's start with the stuff we have to buy. A 28 Watt DVB-T transmitter costs around GBP 10,000. Antennas can be had for GBP 100 each and we need two. Cable (let's assume 60 metres to allow a few metres at the bottom of the mast to reach the transmitter and a few left spare) of LDF4-50 which gives less than 3dB of loss, is around GBP5 per metre, making a total of GBP 300 for the cable. The mast of the tower is 52 metres high, so let's assume GBP 2500 to make space for the local TV antenna. And to be generous, let's add in another GBP 5000 for sundries such as connections to electricity, rack space and so on. Much of the remaining DTT functions (e.g. multiplexer and encoder) can be done in software, so GBP 2500 for a high-end PC to do some storage, playout, encoding and multiplexing. This makes a total capital spend of GBP 18000. Even accounting for a very healthy profit margin this means that Arqiva are charging well over GBP 100,000 for 'site planning, preparation and installation'. Maybe television engineers are particularly expensive in Sheffield?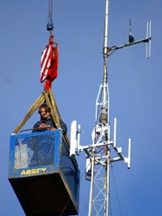 As for the annual costs, let's say it requires a visit every month to check on how it's working and this is one person dedicated for the day (though no doubt they would be checking on all the other transmitters on the site too), at a reasonable estimate of GBP 500 per day, to include the cost of petrol and transport, this equates to GBP 6000 per year. The power required for a 28 Watt transmitter assuming it is 20% efficient, is 140 Watts (equating to 1,227 kWh of electricity per year) which at today's prices would cost around GBP 122 per year. Allowing a further GBP 500 per month towards the maintenance of the buildings, air conditioning, mast and so forth (noting that these will have already been paid for by the existing tennants), the total annual fees would be around GBP 12,122. The annual fee proposed by Arqiva is therefore not as badly over-egged, no doubt the 'management fee' covers a lot of this difference.
So, in conclusion:
Arqiva seem to have extensively overpriced the capital work associated with providing and installing the local TV transmitter; but
The proposed annual fee seems much more reasonable.
Moving forward to today, the European Commission has just published a report by consultants
LS telcom
and
VVA
which, amongst other things, examines the cost of changing the frequency of all the digital television transmitters in Europe to clear the 700 MHz band, whilst at the same time migrating to DVB-T2. The costs detailed in the report, catchily entitled, '
Study on Economic and Social Impact of Repurposing the 700 MHz band for Wireless Broadband Services in the EU
', are that to do this mammoth re-engineering task would cost between EUR 456 and EUR 888 million.
The study makes the assumptions that:
Existing antennas are broadband and can be re-used;
Existing transmitters will be upgraded rather than replaced.
These two assumptions are open to challenge. Whilst most new UHF antennas are broadband and thus in theory would not need changing, there can be instances where antennas have been designed to provide very specific radiation patterns (e.g. to provide nulls in certain directions for co-ordination purposes) and thus a change in frequency would affect their radiation pattern and may require a new antenna. Evidence suggests, however, that the transmitters themselves should be able to be converted from DVB-T to DVB-T2 by only replacing the modulator.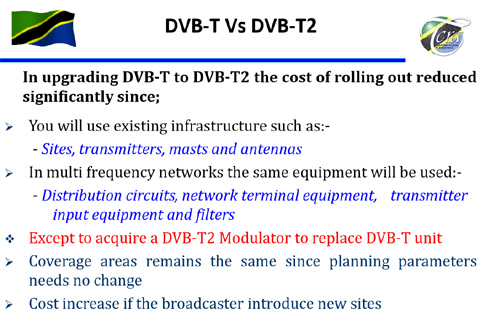 Source: Assessing the technical requirements and implications of DVB-T transitions
The 'cost per transmitter' given in the report ranges from EUR 20,000 to around EUR 50,000, which seems reasonable given the assumptions made. Arqiva's
estimate for re-tuning the UK's transmitter network to clear the 700 MHz band
provides values ranging from GBP 310 to GBP 470 million (approximately EUR 400 to EUR 600 million) putting the price for re-farming the 700 MHz band in the UK at approximately the same level as the Commission report identifies for
the whole of the EU
!
There are approximately 1,200 transmitter sites in the UK, the smaller ones with three multiplexes on them and the larger 90 or so with six, seven or eight, making roughly 4,000 transmitters in the UK. Taking the consultants' report's 'per transmitter' value, the price for re-farming the spectrum in the UK ought to be nearer to EUR 80 to 200 million, a factor of 2 to 8 times removed from the prices quoted by Arqiva, depending on which end of the ranges quoted you take.
So who is right? It seems that the two reports are doing something slightly different:
The Commission's report assumes that existing multiplexes and frequencies are converted to DVB-T2 and as such fewer are needed. In only very few cases would there therefore need to be a change in frequency, as the additional capacity of T2 (and MPEG-4) would mean existing frequencies could largely be re-used.
The Arqiva report is trying to move all existing multiplexes (whether DVB-T or DVB-T2) to new frequencies, which is (clearly!) a much more expensive undertaking.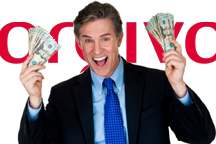 Perhaps Ofcom should take a leaf from the Commission's book, and instead of trying to re-engineer the UK's DTT network to be the same, should instead take the opportunity to convert the network to be DVB-T2 only and save a lot of money in the process. Given the timetable for the clearance of the 700 MHz band (e.g. around 2020), and that typical television replacement cycles are 7 years, the average British household would already have a T2 receiver by then... Then again, no doubt Arqiva could find some 'management costs' to soak up any savings!
add comment
( 246 views ) |
0 trackbacks
|
permalink
|





( 3 / 822 )
Pirate radio to go digital

The number of
pirate radio
stations on-air in London does not appear to have diminished over the past 10 or more years, despite there now being many legal ways in which stations could reach their audiences, most recently though streaming audio on-line.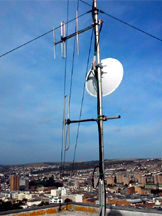 Ofcom has recently proposed that many local radio stations could be accommodated on '
small scale DAB
' transmitters which provide a localised service, and it is conducting a number of trials around the UK of such a service. The idea is to use low cost hardware and software to develop the DAB signals, for example using a
USRP
software radio, and the various software tools provided by the
Open Digital Radio
project. Using these, it is possible to put a (very) low power DAB station on-air for less than GBP1000 and with a suitable power amplifier (for example a
30 Watt Mitsubishi amplifier module
, or how's about a
1.2 kW amplifier module
), a DAB transmitter with reasonable coverage can be built for not that much more. Indeed
research conducted for Ofcom
suggests that a 100 Watt e.r.p. service using such technology could be provided to broadcasters for around GBP1400 per year (at a bit rate of 160 kbps which is far higher quality than most of the existing UK DAB services!)
An article in spectrum newsletter PolicyTracker entitled, '
Can DAB save us from the pirates?
' (
note - a subscription is required to read the full article
), makes the point that the criteria which the UK has set to begin the digital switch-over of radio services (e.g. the turning off of analogue services in favour of digital) is almost upon us. The criteria is that 50% of UK listening should be on a digital platform (whether DAB, on-line, cable, satellite or other) and the latest figures show this is now up to 43%, though as
Wireless Waffle
has pointed out before,
the proportion of digital listening appears to have stagnated
. If the UK does set a date for the winding down of FM radio, one of two things could happen:
pirates may move to digital platforms, in order to be found on the same dial as other stations; or
pirates may take the opportunity of an emptier FM band to choose clearer frequencies, increase their power, or just increase the number of services.
The problem is that in either case there is no guarantee that the pirates would do this in a legal fashion. Pirate radio stations are not renowned for co-operating with each other so why would they pay to be on a DAB platform, rather than buy the equipment themselves and set up digital pirate stations? The answer might come in the form of the reduced number of frequencies available. In the FM band, assuming a station every 300 kHz (which is just about OK from an interference perspective), there is room for 68 stations on the dial. Taking into account the 20 or so legal stations already on-air in London (depending on what you count as London), this leaves a potential for 48 pirates. For DAB radio, which requires 1.4 MHz of spectrum to operate, there is room for just 32 transmissions in any one location. In London 4 of these frequency blocks are in use, leaving 28 'available'.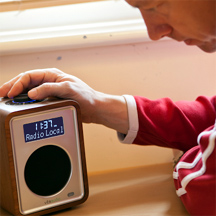 "Ah", you say, "but each DAB multiplex can carry 10 or more stations, so really the number is 280". That is true, but this requires the pirates to club together to buy and operate the equipment and, as already stated, they aren't that good at this. Perhaps the business model they employ could change, and a smaller number of illegal transmitter operators could provide services to multiple pirate stations. Or perhaps a small number of
legal
transmitter operators could provide the same service. The problem here seems to be that in order to legitimise the pirates, they would have to be invited to 'come in from the cold', and Ofcom would have to have a set of licensing policies that were sufficiently lax to permit 24 stations all playing the same kind of electro-shed, play-house or garage-door music onto the dial. It is almost certain that the existing legitimate stations would object to this on the grounds that it would provide unfair competition. But the fact is that such competition already exists on the FM band, and at least if it were done under a licensed framework, there would be some control over what went on, and thus greater protection of the existing 'big boys'.
Maybe Ofcom could take a leaf out of the book of the Lebanese regulator (the TRA) who offered all unlicensed FM operators (which was a large proportion of the country's stations at the time), a licence, if they came forward and provided the necessary details of their transmitting facilities (power, frequency, antenna height and so on). Most stations did this, wishing to gain legitimacy for their service. As soon as they did, however, the TRA could begin to change frequencies, powers and so on to bring the stations in-line, through a proper legal framework that allowed them to inflict penalties if people refused.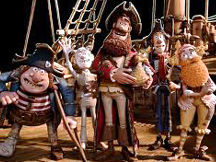 Another model might be for Ofcom to licence small-scale DAB operators, but not to set any criteria over which stations are carried on the multiplex, other than their normal
broadcasting code
which is designed, for example, to stop politically motivated stations from using the airwaves in an partial way. Other than a bit of swearing here and there, most pirate stations would probably already meet most of the rules. This is not dissimilar to the way in which Ofcom licenses digital television, with multiplexes being awarded to companies who are then largely at liberty to select which programmes they include.
In either of the above cases, whether the idea that Ofcom could have an 'amnesty' for pirates, if they agreed to go onto small DAB multiplexes, or if the operation of the DAB multiplexes were made flexible enough to accommodate pirate stations being on them, there might be a sufficient increase the listening to DAB services such that the necessary 50% switch-over threshold is reached sooner rather than later. A 'win-win' situation?
4 comments
( 215 views ) |
0 trackbacks
|
permalink
|





( 3 / 1538 )
So farewell, then, analogue TV

A year ago Wireless Waffle posited the notion that we were
beginning to see the end for digital terrestrial television
. Just over a week ago in Geneva, the ITU
celebrated the date
on which, in Region 1 (Europe and the Middle East) and Iran, protection of interference for analogue television services ceases, and digital is the only protected broadcasting service. This 'celebration' presented the position from across the region where there is an extremely wide range of 'success' from countries who have already switched off analogue television, to those who are yet to launch any digital services at all. Of the 119 countries that form Region 1, only around 40 have completed switch-over - hardly a 'success' to be 'celebrated'.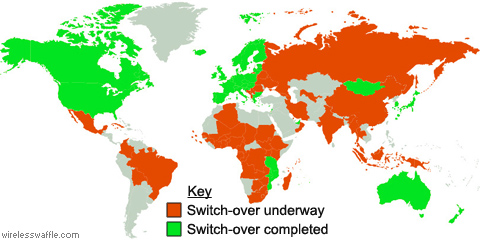 Director of the
ITU Radiocommunication Bureau
, François Rancy, explains the situation.
Let's stop fooling ourselves - digital terrestrial television (DTT) as a platform for delivery of everyday TV, is already on its last legs in many countries, or at least it has a bad case of arthritis. Like many of today's technologies, it is a fixed point in an evolving market and eventually it will be overtaken. Analogue television had its purpose, but is beginning to be phased out. Digital terrestrial television will do likewise, no matter how strongly bodies such as the
EBU
argue that it will remain important until 2025 and beyond.
When DTT was launched, its ability to offer dozens of television channels, and use less spectrum and less electricity made great strides forwards. But the digital world is moving ever faster and DTT is beginning to lag behind and will surely, over the next 10 years, become the lame horse of television broadcasting.
Why? Here's 5 good reasons:
Televisions are getting bigger and resolution is improving. When DTT launched, standard definition television was the norm. The norm now is becoming High Definition television, which requires double the bandwidth of standard definition, meaning that the DTT platform can now carry only half as many channels. With the move to Ultra High Definition, or 4K, each television transmitter will, at best, be able to carry 2 (and in the future, as video compression improves, maybe as many as 3) channels. Thus the wide range of content currently available on DTT will slowly wane such that even with a half-dozen multiplexes, the DTT platform will only carry 15 to 18 TV channels. Compare this with the hundreds that cable, satellite and even the internet will offer.
What's more, the availability of these alternative delivery platforms is increasing. Satellite, of course, provides near universal coverage already, and though it would be fair to say that the coverage of cable TV networks is not growing significantly, the delivery of television over IP networks (IPTV) such as BT Vision in the UK is only dependent on the availability of a broadband internet connection and most countries are investing heavily to make these as ubiquitous as possible.
Whilst household screens are getting bigger, not all viewing is on such big screens. Watching TV on tablets and smartphones is becoming commonplace and although DTT proponents argue that DTT receivers could be built into such devices to allow them to view their transmissions, the manufacturers of such devices appear reluctant to do so. The connection to such devices is WiFi, 3G, 4G or even 5G but not DTT.
Although national television broadcasters (such as the BBC, ARD or France Televisions) still account for a very high proportion of viewing, an increasing amount of this viewing is non-linear, that is to say that it is not live, but catch-up through platforms such as the BBC's iPlayer. Certain content will always remain linear due to its immediacy, such as sports events and communal television such as talent shows and soap operas where the ability of all to share a common experience is important. But the use of non-linear television for other programmes such as factual programmes or dramas to allow them to be watched at the convenience of viewers will surely become the standard.
Finally, the take-up of over-the-top services which do not rely on standard broadcast content but which have a catalogue of material which viewers can watch at their discretion (e.g. Netflix or Hulu) are starting to become the preferred way to relax and watch a programme. Watch what you want, when you want, without being beholden a particular broadcaster's choice of schedule of what you should watch at a particular time of day.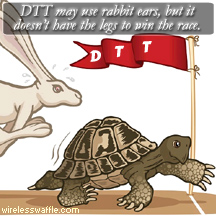 Proponents of DTT argue that:
it can continue to operate in disaster situations (but no-one will have any power to watch TV, though they may well have batteries in their radios);
that it is the cheapest way of delivering mass TV (this is singularly dependent on the number of viewers that use the platform - fewer viewers = higher cost per viewer);
that it is the only platform under national control (e.g. that it is not owned by nasty foreigners that might turn the service off, such as the normally docile Luxembourgeous that own the Astra satellites);
and so forth...
All these arguments do hold water, but so does a colander, for a short time.
Is it really likely that, in ten years from now, we will all still be sitting down at 10pm to watch the news over terrestrial television, or that at 10:17 after we have finished watching the ninth season of House Of Cards on Netflix, we launch our custom news channel which provides a set of news reports tailored to our interests. As
E. J. Thribb
would no doubt have it:
So. Farewell then
Digital
Terrestrial Television

Your days were
numbered

With ones and naughts

And now you
are
but naught

At one
with
your analogue
predecessor.
add comment
( 190 views ) |
0 trackbacks
|
permalink
|





( 3 / 1433 )