A Jovial Reception

Wireless Waffle
has previously discussed the idea that it might be possible to
receive radio transmissions from alien planets
, but it might not be widely recognised that it is possible to receive radio transmissions from planets within our very own solar system!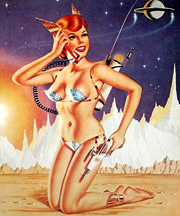 It turns out that the planet Jupiter emits a range of different radio transmissions, not from people using mobile phones on the planet's surface, but so called long 'L' bursts and short 'S' bursts which are generated by the planet itself and its interaction with its moons, and that these signals are relatively easy to receive here on good old planet Earth. These emissions range in frequency from a few kHz to around 40 MHz. The Jovian signals get weaker the higher in frequency you go, but the lower frequencies are often absorbed by the Earth's
ionosphere
. In addition, many of these frequencies can be replete with
short-wave
transmissions. What is needed, therefore, is a frequency that is high enough to pass relatively unperturbed through the ionosphere, but low enough to be receiveable, without too much interference.
An obvious place to start would be the Radio Astronomy frequency allocation between 25.55 and 25.67 MHz as these frequencies should theoretically be free of all other radio transmissions. But it seems the frequency of preference for catching the latest bursts from Jupiter is actually 20.1 MHz, which is the frequency selected by NASA's
Radio Jove
project. From a radio spectrum perspective this is a relatively odd choice of frequency (e.g compared to the theoretically clean Radio Astronomy allocation). At an international level, frequencies around 20.1 MHz are allocated primarily to the fixed service, with a secondary allocation to mobile services. A quick scan of the
Globaltuners
database shows AT&T usage on 20.095 MHz and US Civil Air Patrol on 20.107 MHz. However, it seems that the signals from Jupiter at higher frequencies are much weaker, even by the time 25 MHz is reached.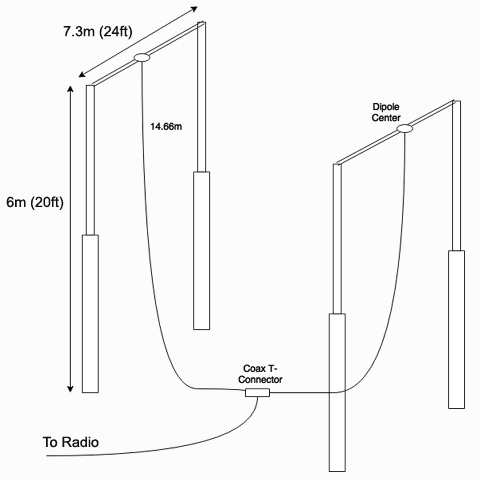 So what do you need to listen to these mysterious signals? A simple short-wave radio should do the job, however it is said that there are two additional things which need to be done in order to tune in to Jupiter:
Turn off the AGC (automatic gain control) on the receiver. The AGC apparently tends to mask the bursts. A software radio is ideal for this.
Build a simple directional antenna.
The latter of these is the most difficult. A two-element array is what the experts say is needed, and at 20 MHz, this is roughly 8 metres (26 feet) square as the diagram on the right shows.
Notwithstanding a lack of the correct antenna,
Wireless Waffle
sought to attempt to receive Jovian radio signals using a short-wave receiver and a normal short-wave antenna (not the fancy two-element arrangement). Sadly, our attempts did not yield any L or S bursts that could be definitively identified as transmissions from Jupiter. We did however manage to receive:
So though we failed to receive any Jovian signals, we did receive some jovial ones and therefore maybe it wasn't such a pointless exercise as at first it might have seemed! Why not give it a go yourself and let us know how you get on?
2 comments
( 239 views ) |
0 trackbacks
|
permalink
|





( 3 / 3561 )
We're Jammin' (Part V)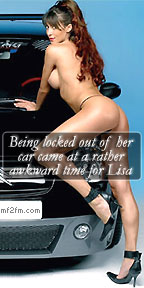 Wireless Waffle
last discussed the issue of
interference to and from wireless car keys
and other similar devices back in 2013, but the topic has cropped up here almost since time immemorial. The original articles discussed the fact that the frequency band used for these devices (around 433.925 MHz) was shared with radio amateurs and that not only were the radio amateurs suffering from interference but that there were cases of car users getting stuck either unable to lock or unlock their cars due to nearby amateur radio transmissions.
But it seems that the situation has changed and that criminals have cottoned on to the fact that it's possible to jam the transmissions between cars and their keys to their benefit. The BBC reports that thieves in a car park in Berkshire had been '
using car key jammers
' and also provides useful advice on the
impact and implications of car key jammers
.
Now far be it for Wireless Waffle to condone such activities, but it is so brain-achingly simple, and mind-bogglingly cheap, to jam these signals, that it's a surprise that it has taken criminals so long to figure out how to do it.

Transmissions from car key fobs normally use either amplitude modulation or fairly crude frequency modulation and the transmitters have a power level of no more than 10 milliWatts. The receivers in the vehicles are manufactured to a price point of around 50 pence and are woefully inadequate at protecting against interference. Thus, a strong enough signal on the same frequency as the car key transmitter (or indeed on a neighbouring one) will overwhealm the low power transmission from the keys. A 40 Watt transmitter (4000 times stronger than the signal from the keys) operating in the same band can be purchased on-line for little more than GBP100.
Such a transmitter would be a brute force way to stop the receiver in the car from being able to hear the signal from the key. This would stop the key from being able to lock the car, meaning that an unsuspecting driver could get out of the car and casually press the button on their key and walk away without listening for the corresponding 'clunk' of the car locking, not realising that the car has not locked. This would clearly leave the car unlocked and easy pickings for a thief.
In principal it would be easy to go one stage further. With a simple receiver it would be possible to record the transmission from the key, and using a low power transmitter, it would be feasible to re-create the signal. In this case, it would be possible for a criminal to unlock a car after it had been safely locked by the driver. Don't say we didn't warn you.

This is not just possible for car keys, but for any devices which operate in a similar manner. The 433 MHz band used for these devices is replete with a variety of signals from wireless devices such as garage doors, parking barriers and devices for which an attack would be less significant such as weather stations and doorbells. The chart below (known as a waterfall chart) shows, from top to bottom, around 2 minutes of time, and from left to right, the middle portion of the 433 MHz band. A wide range of different transmissions are shown as bars or dots and it is clear there's plenty afoot here despite the transmission area of the devices being very small and thus the limited number of devices in range of the receiver used to perform this scan.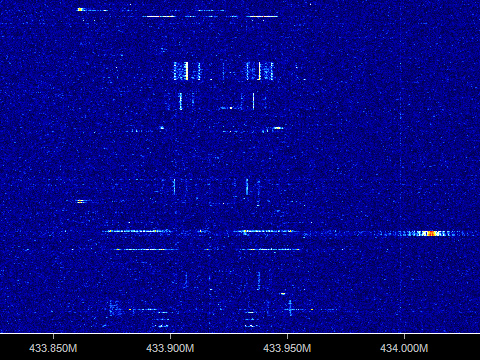 As the number and variety of wireless devices increases, in particular as we progress to the world of the 'Internet of Things' in which there will be sensors and actuators everywhere, it is clear that the security of wireless connections needs beefing up. If you are concerned about your car being 'hacked' by criminals, the best way is to disable the convenience of the wireless key locks and return to the old-fashioned technique of putting the key for your car into the door. Sadly, some modern cars don't actually have this feature any more!
3 comments
( 413 views ) |
0 trackbacks
|
permalink
|





( 3 / 3845 )
Long Live Medium Wave


No sooner had
Wireless Waffle
discovered the existence of one medium wave pirate, another one pops up.
Paradise FM
was being received loud and relatively clear last night on 1440 kHz (now clear of the sadly defunkt 'Great 208') around 21:00 GMT. The web-site gives phone contact numbers in Belgium but it is written in German, and gives details for a town called
Mont Rigi
which is in the German speaking part of Belgium (you knew German was an official language of Belgium right?)
Their web-site also declares that the station is on FM and AM Stereo but no frequency for either is given and as the receiver we were using does not decode AM stereo, this possibility could not be confirmed. Also, there is no FM frequency for any station called 'Paradise' listed in that area of Belgium but if it is a pirate, that is to be expected! Nonetheless, perhaps the Belgian/German heritage is valid.
Either way, it seems that the medium wave band is not as dead and boring as we hadn't given it credit for. Long live medium wave!
1 comment
( 150 views ) |
0 trackbacks
|
permalink
|





( 3 / 2623 )
Top 10 European Medium Wave Countries


As a child, the medium wave band was a mysterious place replete with strong international broadcasters such as Radio Sweden International, Radio Moscow and the BBC, and who could forget the thrill of tuning into the medium wave pirates of the past, whether it was Radio Caroline in the 1960s, the land based pirates such as Radio Jackie in the 1970s, or Laser 558 in the 1980s. Being something of a radio back-water these days, the medium wave band is not something that
Wireless Waffle
has paid much attention to. So on a recent night-time road-trip where there was little else to do, the journey was shortened by the unforgiving task of working the way along the medium wave dial to see what was there these days.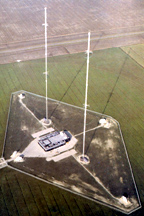 It is evident that the UK still has a prestigious number of medium wave stations, though many are geared towards older listeners (whose hearing is no doubt so frequency constrained that the limited bandwidth of AM sounds just as clear as FM) and whose service area is relatively limited due to the lower powers used (most UK local AM stations have transmitter powers around 500 Watts). At night, however, is when the band comes alive and stations from all over Europe (and even further afield) become audible. Tuning around at night reveals one key fact: Spain appears to be the king of the medium wave band. On almost any clear frequency, it is the Spanish radio stations that seem to dominate. Germany has now ceased medium wave broadcasting, and there are a diminishing number of stations in France and the Netherlands (even stalwart Radio 538 on 891 kHz recently
closed down
just a couple of weeks ago on 26 October).
Of course, when driving it's difficult to simultaneously look up what stations are on a particular frequency (unless you have a willing passenger) so any interesting stations and frequencies have to be committed to memory for later research. One such station and frequency that sprang up was I Am Radio on 1350 kHz. At the time of listening, it was playing almost non-stop obscure disco tracks with occasional announcements and news (from
NPR
) in English and the odd announcement in Italian. It is the Italian language announcements that give a clue as to the station's provenance, and a bit of web-searching later revealed that the station is 'semi-pirate'. Exactly what this means is not clear but it seems to suggest that it is not a totally legitimate organisation.

The signal on 1350 kHz is surprisingly strong, given the stated night-time transmitter power of just 1 kW (though there are rumours of an increase to 50 kW being due). And as the frequency is almost completely clear of interference from any high power transmitters in Europe (if you exclude the 850 kW mammoth or TWR Asia in Armenia), reception is surprisingly good. If obscure disco and news from the USA is your thing, why not give it a try. They claim a contact address of 'info@iamradio.am' though the associated web-address only yields a parking page.
But coming back to the question of which European country rules the medium wave band,
Wireless Waffle
has conducted an analysis of the stations currently on air to find out which country uses the most frequencies and which country emits the most power into the ether, based on data from
MW List
.
The answers are maybe not that surprising. The top 10 European medium wave countries in terms of the numbers of frequencies used (out of the 120 possible channels from 531 to 1602 kHz inclusive) are as follows:
| Position | Country | Frequencies Used |
| --- | --- | --- |
| 1 | Spain | 69 |
| 2 | United Kingdom | 68 |
| 3 | Romania | 26 |
| 4 | Italy | 21 |
| 5 | The Netherlands | 10 |
| 6 | Greece | 9 |
| 7= | Portugal | 8 |
| 7= | Czech Republic | 8 |
| 9 | Poland | 7 |
| 10= | Cyprus | 6 |
| 10= | Hungary | 6 |
So Spain really are medium wave royalty, if the number of frequencies in use is the measure. But what about if the total amount of power radiated into the ether is taken into account. The results look as follows:
| Position | Country | Power Emitted (kW) |
| --- | --- | --- |
| 1 | Spain | 5190 |
| 2 | United Kingdom | 4130 |
| 3 | Romania | 3905 |
| 4 | Hungary | 2510 |
| 5 | Cyprus | 1910 |
| 6 | Czech Republic | 1150 |
| 7 | France | 1010 |
| 8 | Macedonia | 400 |
| 9 | Italy | 390 |
| 10 | Belgium | 310 |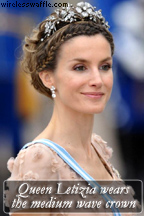 Spain retains its crown as the top medium wave transmitting country in Europe with over 5 MegaWatts of radiated power, but some surprising new countries appear lower down the top 10. Hungary jumps from joint 10th to 4th. France has only 3 medium wave frequencies in use but as one of these is the behemoth 1000 kW transmitter of
TWR Europe
on 1467 kHz this dwarfs many of the other countries who have a greater number of transmitters but of much lower power. Belgium has only 2 active medium wave frequencies but at 300 kW,
RTBF International
on 621 kHz tips the scales in their favour to bring them in at (this week's) number 10.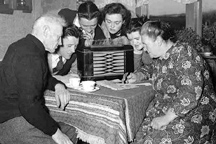 What does this tell us? Nothing in particular, and definitely nothing of any use or value, it's just a somewhat pointless academic exercise. But it does suggest that if you are a manufacturer of AM transmitters, you should undoubtedly aim to site your offices in London, Madrid and Bucharest. Or that if you are learning Spanish, you might do well to buy a medium wave radio and tune around the band at night!
add comment
( 128 views ) |
0 trackbacks
|
permalink
|





( 3 / 1867 )