Hang Fire a Minute

Watching a number of hot air balloons float gracefully past recently, the question arose as to whether or not they used radio to communicate with the ground and, indeed, whether they used radios to communicate with air traffic controllers. A bit of digging around revealed that they do indeed carry aeronautical radios with them, and what's more they have a special 'balloon to ground' frequency. Not just that, but the same is also true of gliders, parachutists, microlights and hang- and para-gliders.
Below are all the commomn frequencies (in MHz) which are set aside, in the UK, exclusively for these special purposes, including a frequency set aside for fire services at airfields:
120.900, 130.100, 130.125 and 130.400 Gliders
129.975 Gliders (to mobile field units)
122.475 Hot Air Balloons
130.525 and 129.900 Parachutes
129.825 Microlights
118.675 Hang/Paragliders
121.600 Ground Fire Services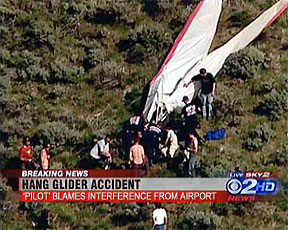 The very observant amongst you may note that the frequency for Hang/Paragliders is just 25 kHz away from the Heathrow Airport (arrivals) tower frequency of 118.700 MHz. Typically, frequencies this close are not used in the same area so that any Hangglider flying near to Heathrow may cause disruption to the tower communications (and indeed the governing body for aero frequencies, ICAO, does not allow such clashes). The exceptionally observant amongst you will realise that if a hangglider got close enough to Heathrow airport to cause interference, it would have greater things to worry about than radio! So by simple spatial collision avoidance, interference is likewise stopped.
add comment
( 963 views ) |
0 trackbacks
|
permalink
|





( 3.1 / 8247 )
Wire-More LAN (Part V)

Another long train journey, another opportunity to run
Netstumbler
to find out what is going on in the world of WiFi. On this journey 425 WiFi (802.11b and 802.11g) access points were identified. No 802.11a (5 GHz) access points were spotted. Of these, 24% were not encrypted or protected in any way (however, some of these are public access points such as 'BT OpenZone' and so would not be expected to be encrypted). This means that the proportion of home WiFi nodes that are now protected has gone up significantly since the last time this was tested.
The graph below shows, in orange, the number of times that each channel was found to be in use. As expected, channels 1, 6 and 11 were the most commonly used, with channel 1 winning out over channel 11 in terms of usage for a change.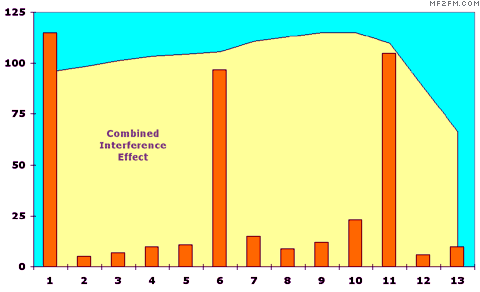 What the graph also shows is the combined interference effect of all the nodes across the whole WiFi frequency band. This has been done by adding the use of a channel with (5-n)/5 times the use of the frequency n channels away. So a channel 3 frequencies away from the channel in question would add 2/5ths of its interference to the total combined effect. This takes account of the OFDM nature of WiFi and thus the fact that the less two channels overlap, the lower the interference problem.
What's interesting about this result is that interfernece remains fairly constant across the whole band, with the exception of channels 12 and 13. This is perhaps not surprising as, channel 9, for example, will suffer 3/5ths of the interference in busy channel 11, and 2/5 of the interference in busy channel 6. Only when we get above channel 11 does interference fall as only one busy channel (11) is now adding to the combined interference 'mush'.
The frequencies above channel 13 (i.e. above 2483.5 MHz) are not used for WiFi and although no account has been taken of usage above (or below) the band, if usage is not widespread (at present it is reserved for an as yet non operational satellite system), then the overall level of interference in channels 12 and 13 will, indeed, be lower.
add comment
( 1211 views ) |
0 trackbacks
|
permalink
|





( 2.9 / 7981 )
The World's Simplest Harmonic Filter

Saturday 31 May, 2008, 08:23 -
Amateur Radio
Posted by Administrator
One problem that radio amateurs (and professionals for that matter) regularly stumble across, is the problem of adequately surpressing the harmonics that are produced in their transmitter. Harmonics are frequencies which are on multiples of the actual signal being produced (e.g. a transmitter at 100 MHz will produce harmonics on 200, 300, 400, 500 MHz and so on...) and are a natural and largely unavoidable bi-product of the transmitter.
Normally a low pass filter is used to try and stop harmonics from reaching the aerial. Such a filter will be designed to allow the wanted frequency through with little or no attenuation, whilst attenuating harmonics by 30 dB or more (the level of filtering required depends on how bad the harmonics being produced by the transmitter are). However, there are some instances where the surpression offered by a low pass filter might not quite be enough to reduce the harmonics to a level where they are no longer a problem. The diagram below illustrates the typical response of various low pass filters.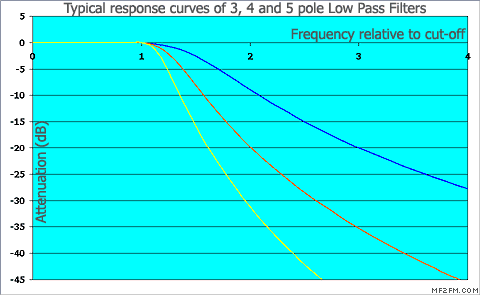 Imagine an amateur radio station transmitting on 50 MHz. The second harmonic of this transmission is on 100 MHz, right in the middle of the FM broadcast band. If this happens to be the frequency of a local FM station, then even tiny amounts of harmonic radiation may upset neighbours trying to tune in.
Years ago I stumbled across a device which is one of the simplest (and cheapest) harmonic filters around. It comprises of... a piece of coax. Yes, it's that simple. Or almost that simple. It's called a stub and works like this:
A quarter wave transmission line (i.e. a quarter wavelength of coax, twin feeder or similar) has the weird property that the impedance at one end of it will be the reciprocal of the impedance at the opposite end of it, at the frequency where it is a quarter wavelength long (this has to take account of the velocity factor of the line - more of this later). So, if one end of the quarter wave is a short circuit, the other end will be an open circuit.
A half wave transmission line exhibits the property that the impedance at one end, will be exactly the same at the other end (which is why some folk recommend making all patch leads a half wavelength long).
So how can these facts be used to make a harmonic filter. Simple! Using the previous example, if we cut a piece of coax to be a quarter wavelength long at 50 MHz and then short circuit one end of it, the other end will show an open circuit at 50 MHz so we can place it across the output of the transmitter with no effect (if you aren't sure how to connect it across your transmitter output you shouldn't be playing with transmitters in the first place). At 100 MHz, however, it will be a half-wave long and the short circuit at one end will appear at the other end. It will therefore allow the 50 MHz signal to pass and block the 100 MHz signal - the perfect harmonic filter.
However, this pattern repeats such that the same 'stub' will also pass signals at 150, 250, 350 MHz and so on, and will block signals at 200, 300, 400 MHz and so on. Whilst this means that some harmonics are still passed unchanged, it does block half of them and in our particular example means that the problem signal that interferes with our neighbours' reception of the local FM station is addressed. Alternatively, it would simplify the design of the necessary low pass filter, potentially reducing the component count and hence cost. The frequency response of the stub (as connected across the output of a transmitter) is shown in the diagram below.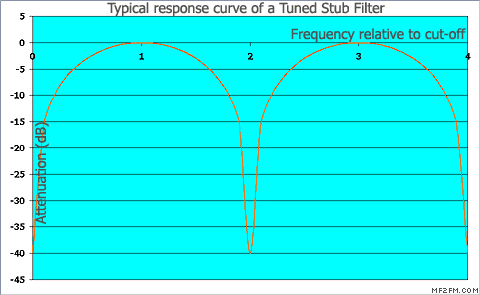 Making a stub couldn't be easier. Let's assume we are using standard RG-58 (URM-76) coax cable. This typically has a velocity factor of about 0.66 (meaning, freakily, that radio signals travel at only 0.66 times the speed of light inside the cable, compared to the speed in free space). Velocity factors vary between about 0.66 and 1 (foam filled coax has a factor of about 0.8).

A quarter wavelength at 50 MHz is 1.5 metres long (300 divided by 50 MHz divided by 4). Multiplying this by the velocity factor gives a resulting stub length of exactly 1 metre. So, if we get 1 metre of coax, and short circuit one end of it, whilst connecting the other end across the output of our transmitter, it should have no effect whatsoever on the 50 MHz signal, but will short out the 100 MHz signal to the best of its ability.
Typically stubs of this nature attenuate the second harmonic by 30 dB. Careful tweaking to ensure that the second harmonic 'notch' is right on the second harmonic frequency can increase this to maybe 50 dB. Multiple stubs, separated by further quarter wave lengths of coax can be used to make the notch deeper.
The downside of such a filter is that it is frequency specific, so if we re-tune our transmitter to 52 MHz, with the harmonic falling now at 104 MHz, the second harmonic attenuation will be less (again multiple stubs, each on a slightly different frequency to the next can help here). Also, stubs of this type would be very large for low frequency operation (the same stub would require 14 metres of coax if the wanted frequency were in the 80 metre, 3.5 MHz band).
Nonetheless, the tuned stub harmonic filter has to be one of the simplest and cheapest ways to reduce harmonic emissions that anyone could make.
add comment
( 1899 views ) |
0 trackbacks
|
permalink
|





( 3.3 / 8233 )
Pennies from Heaven?

It seems it's not just
Wireless Waffle
that takes an active interest in matters pertaining to spectrum management. No less than the fourth highest authority in the land (after God, the Queen and Chris Moyles), the Rt. Hon. Alastair Darling MP, chancellor of the Exchequer has obviously been taking note of what we've been saying. Section 5.16 of the his
Budget 2008
entitled, innocuously enough 'Spectrum Management', says:
As broadcast media and mobile technologies continue to grow in importance and diversity, efficient use of the electromagnetic spectrum to deliver the services that society demands remains an important issue for both the public and private sectors. In line with the Government's Forward Look on public sector spectrum, the Ministry of Defence will by May 2008 publish an implementation plan setting out its plans for the release of spectrum to the market. Other departments are adopting similar processes. To ensure best use of spectrum by the private sector, Ofcom has also confirmed that in contrast to some previous spectrum releases which were available for specific uses only (notably mobile telephone services) the spectrum released by digital switchover will be available for all technologies. The Government fully supports this decision.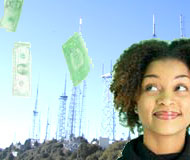 Does this tell us anything? Are the Government about to tax spectrum? Will spectrum be blamed for the economic downturn that we now seem to be staring into the barrels of? Will spectrum be the reason for the 2 point increase in income tax at the next budget? Or much worse, will poor spectrum management cause an extra 1 pence on the price of a pint of beer (except 'lager' which isn't really beer in the true British definition of the term)? Probably not, other than the fact that the estimated bill that Ofcom is going to charge the MoD to 'recognise its access' to the spectrum is £300 million, and that decisions on MoD ('and other departments' meaning the Civil Aviation Authority mainly) spectrum use are taken at cabinet level and so are visible on the radar.
One might go so far as to suggest that the chancellor at the time of the £22 billion 3G licence windfall, none other than the now Prime Minister, Gordon Brown, is keeping an eye on matters to make sure that the Government doesn't lose out should the MoD find a way to profit from the sudden interest in one of their previously lesser valued assets. One might do that. One might not be far wrong!
add comment
( 1085 views ) |
0 trackbacks
|
permalink
|





( 3 / 9406 )