Echos Of Signals Past

It's easy to forget that the radio spectrum has been in use for over 100 years, but that then (as now!) communications has not always been wireless.
During World War I, teams of 'signals' engineers risked life and limb to lay down wires to allow communication between the front line and the headquarters.
"
Signals From The Great War
" takes the reader back to these times through a series of mémoires written by Archibald Gordon MacGregor RE MC combined to tell the story of a young signals officer's experiences on the front line in Belgium and France from 1917 - 1919.
Though the mémoires were written in 1968, almost 50 years after the events they are describing, the level of detail and clarity are impressive and the book makes for a fascinating read for anyone interested in finding out more about military communications before radio became the default means of information distribution.
It is gratifying to note that Lieutenant MacGregor received the military cross for his bravery.
add comment
( 225 views ) |
0 trackbacks
|
permalink
|





( 3 / 850 )
Why-Fi No-Fly Zone

Various news web-site including
CNN
and the
BBC
report that American Airlines flight 136 due to fly from Los Angeles to London on October 26 was delayed by almost a day when a passenger sitting on the aircraft noticed a WiFi network named 'Al-Quida Free Terror Nettwork'. As a result, the aircraft was emptied and a search conducted by US Customs and Border protection officials but the source of the offending WiFi signal was never found. No doubt the misspelling of 'Al Qaeda' and 'Network' enhanced the level of terror indicating, as it does, that the person who set up the network was potentially:
someone for whom English was not their first language;
a dimwit whose IQ was far below average;
someone with scant regard for spelling in an infidel's tongue; or
a person deliberately trying to mask their true intentions by appearing as one of the above.
Any of the cases above would no doubt strengthen a belief that the network was established by a terrorist group to whom any and all of those characteristics could apply.
As the BBC notes:
Many broadband subscribers re-name their home wi-fi network to personalise it.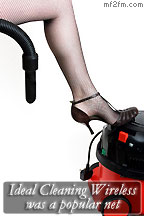 Back in 2007,
Wireless Waffle
undertook a
survey of WiFi channel usage
which found networks with such kooky names as 'Gary Barlow', 'Slapheads Network', 'Toast' and 'Fraudulent'. The practice of personalising WiFi network names (or
SSIDs
as they're technically known) is not a new one and whilst naming a network after a terrorist organisation is clearly a very bad idea (especially whilst at an airport) there's no law against it. If just setting an SSID to such a name can disrupt flights at a busy airport, then it opens the door to widespread misuse of, for example, the WiFi tethering options on mobile phones, to conduct all kind of Rabelaisian ruses.
Many airports and other major venues and events (such as at the
London Olympic Games
) use radio spectrum monitoring equipment to check for people using unlicensed frequencies as the wireless landscape in such places is very complex with many networks sharing neighbouring frequencies. Careful planning is essential to ensure that the myriad of users do not interfere with each other (especially to the safety critical air-ground systems for example) and monitoring is vital in keeping the airwaves free of signals that could cause problems.
Maybe airports and other establishments that might be the target of people intent on causing havoc with their naughtily named WiFi SSIDs could take a leaf out of
the book of Marriott
and also install WiFi monitoring systems that would allow naughty network names to be traced and closed down before they caused multifarious mayhem.
1 comment
( 811 views ) |
0 trackbacks
|
permalink
|





( 3 / 940 )
UK Hams Get New 'Moonlight' Channels

Back in the early days of citizens band (CB) radio in the UK, when the 40 available channels were busy and bustling, some enterprising operators found that by changing the voltages on the pins of some of the integrated circuits inside their CB radios (the PLL), it was possible to make them operate on channels immediately below the normal 40. These channels were only used by those 'in the know' and were illegal to use (then again when did legality ever bother CB operators?) They became known as the 'moonlight' channels referring no-doubt to their somewhat illicit status and the fact that they tended to be busiest late at night.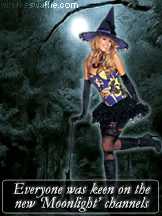 Move forward over 30 years and as of today (31 October 2014), radio amateurs in the UK have access to an additional piece of VHF spectrum from 146 to 147 MHz. Access to this extension to the 2 metre band is only through a notice of variation (NoV) which can be applied for by any full licensee on the
RSGB web-site
. The new spectrum will initially be available for just 12 months though Ofcom may automatically extend this if they see fit and is on a non-interference basis meaning that radio hams must not cause interference to any legitimate users (e.g. in neighbouring countries) and must accept any interference that those users cause.
There are other limitations notably that the maximum transmitter power is 25 Watts, antenna height must not exceed 20 metres and in Scotland (and within 40 km of Scotland) the upper band edge is 146.9375 MHz.
Given the date of the release of this new piece spectrum to radio hams and its uncanny similarity to the original CB band extension (being immediately adjacent to the normal allocation)
Wireless Waffle
suggests that these new channels be also named the moonlight channels. To celebrate the release of the new VHF moonlight channels, we have compiled a list of
one hundred horrible Halloween hits
to dampen the spirits at any party.
Anyone for a natter on the newly designated moonlight calling channel of 146.666 MHz tonight?
add comment
( 392 views ) |
0 trackbacks
|
permalink
|





( 3 / 2319 )
What A Waste Of (White) Space!

There can be no doubt that there is increasing pressure to find radio spectrum for a growing number of applications and uses. At the same time, there is a diminishing amount of spectrum that can be relatively easily re-purposed. It is against this backdrop that various organisations are seeking to find new ways to access the spectrum for new services without unduly upsetting the existing ones. One of these methods is the use of what has been termed 'white-space' spectrum.
So called white-space is comprised of the little 'off-cuts' that are left lying around after big holes have been punched into the radio spectrum by existing users.

For example, high powered television transmitters punch great big holes into the spectrum, occupying big pieces of spectrum over very large areas. But the nature of such high powered broadcast services is that transmitters on the same frequency have to be separated by large physical distances so as to avoid neighbouring transmitters interfering with each other. At points roughly half-way between two such transmitters, neither transmitter will provide a signal that is strong enough to deliver a useful service, but the frequency can not be re-used for more broadcasting as doing so would cause interference to viewers in the coverage area of the two transmitters. But a different service (in particular one with much lower power) could be squeezed in without causing such interference. These small off-cuts can, in theory, be sewn together to form a patchwork quilt of spectrum that might just be useable.
For many years, organisations including Google and Microsoft have poured large amounts of money into finding the right thread to stitch the pieces together to make a piece of spectrum big enough to be useful. Thousands of man-hours of research have been poured into radio spectrum white-space and millions of pounds of investment into technology and standards (including Huawei's recent
purchase of white-space gurus Neul
) have been made, but so far, other than a few technology trials, no 'killer app' for white-space has been found.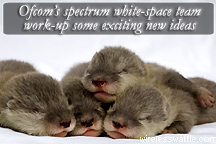 Kudos then, to Ofcom and Google, who have launched '
ZooCam
' in which live pictures of animals at London Zoo are being transmitted from their cages directly to somewhere or other using white-space technology and then streamed onto the internet. When
Wireless Waffle
popped by to share in the excitement, the Otters were asleep, the Meercats were nowhere to be seen and the Galapagos Tortoise was moving so slowly that a daily photo update would have been just as informative as a live feed.
Philip Marnick, group director of Ofcom's Spectrum Policy Group is quoted as saying:
In a world where consumers' demand for data services¹ is experiencing huge growth, it is essential we find the most efficient ways to share the airwaves. White space technology could be one way of meeting this demand.
¹For 'data services' read 'pictures of furry animals on the internet' (which are known to account for over 85% of all internet traffic).
Might we be so bold as to suggest some other uses for this high-cost, leading-edge technology: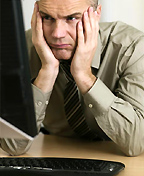 'BergCam' - participate in a thrilling, spill-a-minute live stream of global warming in action as the ice caps slowly melt.
'DecorCam' - in which a group of decorators position a camera somewhere different each day after painting a wall so can you watch it dry.
'HerbiCam' - a live-action feed from Lords Cricket ground focussing on a few blades of grass so that you can watch them grow.
'CymruCam' - share the excitement as someone in rural Wales tries to perform Windows updates using their dial-up internet connection.
Whilst programme makers, machine-to-machine communication proponents, smart-everything activists and public safety organisations the world over are screaming for access to more spectrum, it is clear that Ofcom believe that there are far more economically valuable uses for this colourful patchwork of frequencies. Is it just us, or does this new initiative appear to be a complete waste of (white) space?
add comment
( 347 views ) |
0 trackbacks
|
permalink
|





( 3 / 902 )