Maximise your mobile signal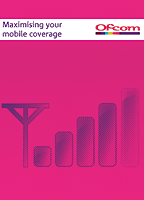 Ofcom has recently published a leaflet outlining how mobile subscribers can go about
maximising their mobile signal
with a view to getting the best possible coverage. The leaflet covers issues such as checking coverage first, before buying a phone (shops have on-line coverage checkers available), trying out different operators (by testing different SIM cards) and has a few technical measures such as the use of Femtocells (tiny mobile base stations you can install in your own home) and UMA (carrying your voice traffic over WiFi when you're in the coverage of a suitable hotspot).
This is all well and good, and reasonable advice, but it doesn't cover how you might go about getting a better signal if you are stuck in an area with poor coverage. So here's the (new look!)
Wireless Waffle
guide to practical things you can do to get a better signal (and things that don't work).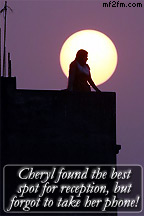 Get high!
By far the best way to improve your chances of getting a good signal is to get your phone as high as possible. Signals upstairs will be better than signals downstairs. Signals at the top of a hill will be better than at the bottom. Standing on the roof of your car will get a better signal than sitting inside it (not recommended if you are a bit on the heavy side). Height is the number one way to boost your signal.
Get out!
The Ofcom paper mentions this too, but doesn't point out how big a difference it can make. Buildings can shield mobile signals by anything up to a factor of 50. Standing outside will circumvent this shielding and can make a big difference in your chances of success.
Get moving!
Buildings not only shield signals inside them but can block signals from passing through them. Other big obstructions such as gasometers, walls, and even trees and cars
can also block signals. As you are unlikely to know which direction the mobile signal you are trying to receive is coming from, you may inadvertently be stood in a position where it is being blocked. Move around (in particular walk around a building) whilst checking the signal on your phone to see if there is a spot where it suddenly comes to life.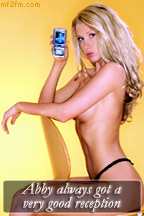 Get naked!
Whilst we would love to see people walking around buildings in the nude to try and get a better phone signal, by this we mean taking off any covers, shells or other accoutremenets which adorn your phone. Some covers can contain metal elements which can deflect mobile signals, especially if they end up covering up the antenna on your phone. Operating your phone 'naked' will ensure that it's antenna is not blocked or covered in any way and can further improve performance.
Get clear!
Most electrical devices, especially computers, TVs, set top boxes and other electronic gizmos give off weak radio interference. The amount they give off is limited by law, but in close proximity it can be enough to upset mobile reception. Make sure you are as far as possible away from any electronic equipment and the interference they generate should be too weak to cause reception problems.
Get plugged in!
If your phone has option to connect an external antenna (such as via a car-kit) it might be feasible to connect an free-standing aerial (such as
these
) to it. The antennas inside phones are a compromise in size, designed to peform as well as possible given the small space in which they have to fit. Plugging in a proper, full-size, external aerial will boost signals, especially if the aerial concerned is high up, outside and clear of any blockages.
Of course, these are the easy answers. There are some more technical solutions that require a bit of effort, like the
soup can booster antenna
(no, not two cans and piece of string) which really work. As well as things that do help, there are a number of things that don't...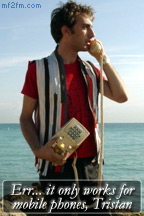 Power Strip Antenna Boosters
and similar devices that you stick on your phone that claim to be able to improve its performance. Anything that doesn't plug into your phone but just sticks to it is highly unlikely to do anything other than leave a sticky patch when you remove it.
Passive repeaters
are a bit of a grey area. Properly installed they may be able to provide some boost in signal indoors, by taking the signal that is received outside and relaying it to the inside. The increase is only likely to be noticeable if you mount the external antenna as high as possible, use very high quality cable to connect the two ends, and stand right next to the internal antenna.
Active repeaters
are also a grey area, but for a different reason. They do actually work, and can improve mobile signals if properly installed. But, and it's a big BUT, they are
illegal to operate
. The only people licensed to use them are the mobile operators themselves. Anyone else using one is breaking the law. Further, if they are badly installed, they can cause interference to the mobile networks actually making reception significantly worse, not just for you, but for everyone else in the area too!
So hopefully you now have a much better idea of what works and what doesn't and can amaze your friends by shouting out the mantra of '
get high, get moving, get naked and get clear
' if they are suffering reception problems. They are sure to understand what you mean as you couldn't possibly be misinterpreted, could you?
2 comments
( 1451 views ) |
0 trackbacks
|
permalink
|





( 3 / 44065 )
Radio Killer - Lonely Heart

OK, so a bit of an odd one for
Wireless Waffle
. The only real connection with our usual topics is in the title of the band 'Radio Killer' because it contains the word 'Radio'. Anyhow, here's an off-the-wall prediction for a future UK chart topper...
This has got to be one of the catchiest dance tunes this year, beating fellow Romanian Alexandra Stan (of Mr. Saxobeat fame) for the best tune of the year so far.
It's released in the UK on Sunday August 14th, so we shall see whether Radio Killer can indeed kill all others and make it to the top of the chart. Pop pickers!
add comment
( 992 views ) |
0 trackbacks
|
permalink
|





( 3 / 35778 )
Are Murdoch's Sky Satellites Spy Satellites?

According to an article in last Friday's London Evening Standard, the term 'pinging' means
locating a mobile phone by satellite
. Now
Wireless Waffle
has previously explained that
GPS satellites can not track your location
due to the fact that they only transmit location information, not receive it. So how did the News of the World manage to 'ping' the location of a mobile phone using satellite?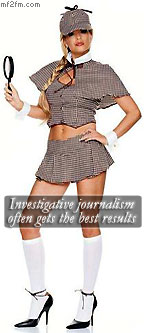 As it couldn't have been GPS, the most obvious solution is that the satellites used to deliver Sky television are not just 'Sky satellites' but 'spy satellites' too! For this to work, the satellites concerned would have to be able to receive a signal from the phone being tracked, identify the direction from which the signal was being received, and then triangulate this through measurements from a number of different locations.

Let's take these one at a time. A geostationary satellite can 'see' about a third of the surface area of the earth. The image on the right shows the view from a satellite sat directly above the Greenwich Meridian. This puts it in clear line-of-sight of at least a third of the Earth's population (and probably more given that the pacific area is largely empty). So could it 'see' a mobile phone in the UK, yes! However, it would also see around a billion other mobile phones. Even if it had a very sharp 'spot beam' focussed solely on the UK (and remember that some celebrities may not be in the UK when pinged) it would still see probably a hundred million phones. Identifying the particular one being used by a certain individual is therefore not at all straightforward. Modern digital signal processing might be able to help a little, but with millions of mobile phones all transmitting at the same time, right across the country, it would take an awful lot of processing to pinpoint just one phone.
Let's assume (for the sake of argument) that such processing could be fitted to a satellite and that it was possible to pick out one phone from amongst millions. The next job is to identify the direction of the signal from that phone. In order to do this to an accuracy of, say 1km, from geostationary orbit, requires an angular accuracy of about 0.01 degrees. To get this level of focus requires an antenna array that is approximately 1km across, nearly 100 times the maximum size of antennas fitted to current communication satellites.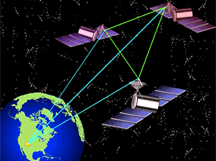 So assuming state-of-the-art digital signal processing, and satellites that are 100 times the size of those typically in use, all that remains is to triangulate the location of the transmitter. Typically three measurements are required in order to triangulate the location of an object. All the UK Sky TV satellites are in the same orbital position, but this would not give the level of diversity required and so satellites in other positions would need to be used in addition to the fleet used for the UK services. But as there are Sky TV services for other countries on other satellites in diverse orbital positions, these could be used. This bit, at least, is vaguely feasible.
So with a fleet of gigantic, super-powerful, mega-satellites, it might just be possible to identify the location of a mobile phone from space. It is more likely, however, that the idea that 'pinging' a phone to locate it by satellite is pure hogwash, and is an idea espoused by the press to scare celebrities and others (like you and me) into thinking that they can be tracked down when up to no good!

1 comment
( 1455 views ) |
0 trackbacks
|
permalink
|





( 3 / 37370 )
Let's sheikh on it!

Around the short-wave world, mention of 'PsyOps' has recently had reason to reappear. It refers to psychological warfare being conducted by NATO forces to 'scare' Colonel Gadaffi's forces into remission through a variety of activities. One of these activities is the broadcast of semi-threatening, warning messages to troops loyal to Libya's erstwhile leader.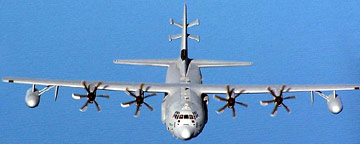 These messages have apparently been broadcast from a
Lockheed Martin EC-130
aircraft known as Commander Solo overflying the region and are using the frequencies which belong to the 'Great Man Made River Authority' (GMMRA) which is Libya's authority responsible for artificially transporting water from wells in the Sahara desert via a big pipe to population centres in the North. Why NATO would have chosen these frequencies is not known, however there is (or was) apparently an
ALE
network on these channels that was presumably in regular use and hence there would be several receivers across the country in 'important offices' which would hear the PsyOps transmissions.
Frequencies reported in use by the GMMRA in recent times include 4200, 5037, 5047, 5300, 5368, 5768, 6884, 7000, 8161, 8200, 8800, 9218, 9250, 9375, 10125, 10375, 10404 and 11100 kHz. Previous reported frequencies also include 3000, 3900, 4050, 6800, 7805, 7900, 10215 and 10250 kHz (thanks to
Btown Monitoring Post
).
Of the above, NATO PsyOps transmissions have so far been heard on: 6877, 9376, 10125, 10404 kHz. Note that the 10125 kHz frequency is slap bang in the middle of the 30 metre amateur band but as this is a shared frequency with other services the transmission by the military does not contravene the ITU frequency allocation tables and is therefore, effectively legal. The use of 7000 kHz by the GMMRA is not, however, legal as this is an exclusive amateur allocation. Initially, many of the PsyOps transmissions were jammed (presumably by the Gadaffi regime) however they no longer appear to be so.
Here's the
Wireless Waffle
recording of
Commander Solo on 10404 kHz
made at 14:00 GMT on 12 July 2011. The transmission ceased at 14:20 GMT. The noise underneath the transmission also ceased around the same time, however whether the two are connected (ie the noise is an attempt at jamming) can not be confirmed. Given that this recording was made in the UK, it is clear that the power of the transmitter used by Commander Solo and his ilk must be reasonbly high. Judging by the signal strength and general propagation conditions at the time of the recording, a radiated power of at least 1 kiloWatt would seem about right. As normal HF aircraft radios have powers of at least 200 Watts, this seems quite feasible.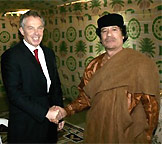 Of course, all that the Colonel has to do to stop the NATO transmissions becoming a nuisance, is hand out free
power line adaptors
to at least one house on every street and all short-wave frequencies would be instantly jammed. Perhaps Colonel Gadaffi is an investor the Comtrend PLT devices that do all the damage and the reluctance of Ofcom to do anything about them is part of some previous
UK-Libya trade agreement
on arms sales. Surely now that the UK is part of a force against Gadaffi, Ofcom can now breach the terms of this agreement with the Libyan government to pollute short-wave and finally get rid of the menace of PLT?
add comment
( 1067 views ) |
0 trackbacks
|
permalink
|





( 2.7 / 26000 )