Box of Dreams

Broadband wireless ADSL modem/routers are now available for below GBP50, incorporating, as the name suggests, a WiFi router, ADSL (and now ADSL2/2+) modem and often an Ethernet LAN connection. At this price, there's really no excuse for sticking to wired broadband access unless your house is so large that a single wireless access point won't cover all the various wings and annexes.
But things have gone even further than that so that some of the aforementioned modem/routers now include VoIP (Voice over Internet Protocol) connections. With a VoIP connection you can connect a regular phone to your modem/router and send and receive phonecalls via the internet through services such as
Sipgate
.

I recently came across a 'Wireless ADSL VoIP modem/router' for just over GBP90 including postage and the dreaded VAT so I decided to go for it. The sexily named 'Billion 7402VGL BiPAC' (available from
broadbandbuyer.co.uk
) provides:
* An ADSL2/2+ modem (backwards compatible with good ole' ADSL)
* A WiFi 802.11g access point (backwards compatible with good ole' 802.11b - both operate at 2.4 GHz)
* 3 100 Mbps Ethernet LAN connections (backwards compatible with good ole' 10 Mbps Ethernet)
and
* 2 VoIP phone sockets (the 'Billion 7402VGP BiPAC' is even backwards compatible with good ole' PSTN as well)
After a bit of a kerfuffle setting it up, I now have a wireless broadband network (so I can use my laptop in the bath); my main PC connected via the LAN; and a phone with a central London phone number sat on my desk that rings like any other phone but for which I pay no additional line-rental (other than that I already pay for the line which brings the ADSL connection into the house).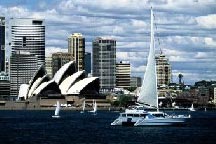 Being a central London number I can now pretend to my work colleagues that my office is in a swish, high rent district of the city, rather than the sleepy backwater where it acually is! Oh, and it's possible to call other VoIP users for free, so I can chat to my friend in Dublin for nothing whatsoever.
The whole thing is rather impressive (I guess I am easily impressed) and there's still a spare phone socket on the back of the unit so I could get another phone number in, for example, Australia. Why? I don't really know, it's just a gratuitous and pointless use of technology. Plus, I always fancied living in Sydney!
add comment
( 1001 views ) |
0 trackbacks
|
permalink
|





( 3 / 4687 )