Skywave Striptease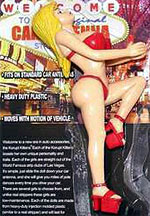 Here at
Wireless Waffle
, we have spent the last month tracking down the perfect Christmas present for the radio enthusiast. Something classy and stylish that would enhance even the lamest of radio installations and make them sparkle and gleam. Something that will make everyone look at your aerial with amazement, requiring double and triple takes in order to believe the awesomeness (
yes, that is a word!
) of your antenna.
And after literally minutes of research, we have discovered the '
Antenna Doll
' - an authentic plastic pole dancer who is already stripped to her undies and is ready and willing to spruce up the season with her sexy moves. According to the packaging, special features include:
* Fits on Standard Car Antennas
* Heavy Duty Plastic
* Moves with Motion of Vehicle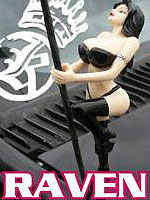 What's more, this must-have gift for the wireless wayfarer comes in several different variants guaranteed to make your pole stand to attention including the ravishing dark haired damsel 'Raven' and the buxom burlesque blondette bimbo 'Britni'.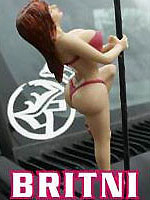 The
Antenna Doll
isn't available at all good retailers or radio shops, it can only be bought in specialist outlets such as
eBay
and your local
tat
emporium, junk shop or adult outlet.
As well as ensuring you the best possible reception (especially in the car park of the local Womens' Institute) almost 10 pence (20 cents) of the price of every
Antenna Doll
that is sold goes directly towards its manufacture. So why not give the one you love something tasteful and unique to fill their stocking this Christmas and buy something else instead.
add comment
( 1227 views ) |
0 trackbacks
|
permalink
|





( 3 / 5207 )