iTrip iNterference

Monday 19 February, 2007, 04:47 -
Licensed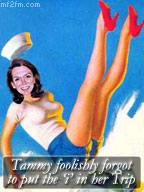 So you've bought your iTrip, micro FM transmitter, AirPlay, PodFreq or similar and plugged it into your iPod or PSP and managed to get it to transmit somewhere in the FM band. You even manage to find a clear FM frequency at home where you don't suffer interference from local radio transmitters (or your neighbours' iTrips!) Then you decide to go on a road trip and you take it into your car. Driving around the UK you soon find that the FM frequency that was clear at home is home to a neighbouring radio station and that as you drive along, reception of your iTrip is blighted by interference from local radio stations (how dare they!)
What you need is a frequency somewhere in the FM band that is clear of licensed stations so that you can drive up and down the country without ever suffering interference or having to re-tune your iTrip.
Dream on!
There are only nine frequencies in the mainland UK which are not used by high powered local (or national) radio stations, these being 87.5, 87.6, 87.7, 87.8, 87.9, 88.0, 105.0, 105.5 and 108.0 MHz. If you include pirate radio stations on the list, there are virtually no clear frequencies at all - Shine on 87.9, Point Blank on 108.0 and UK's Finest on 87.5 being good examples of stations that occupy these seemingly clear channels. However to get clear, interference-free reception it's wise to have at least 200 kHz between you and any other station. Pirates aside, this means that 88.0, 105.0, 105.5 and 108.0 are out leaving only 87.5 - 87.9 MHz. This 'clear' spectrum is not, however, unused: 87.7 and 87.8 MHz are the most common frequencies for low-power FM stations, either short term (RSL) stations, or the new wave of community radio stations.
So what to do? Well excluding one or two pirates, using 87.5 MHz is a fairly safe bet, unless you happen to live in a major city where pirates are prevalent or near a long-term RSL or community station on 87.7. But what about elsewhere on the FM dial? Are there any 'cold-spots' where there is a smaller likelihood of coming across an interfering station.
The main BBC sub-bands (88.1 - 90.2 for Radio 2, 90.3 - 92.4 for Radio 3, 92.5 - 94.6 for Radio 4, and Radio Scotland and 97.7 - 99.8 MHz for Radio 1) are pretty chocker-block and many of the transmitters are very high power (250 kW is not totally uncommon) so they are not a good place to look. The other BBC sub-bands, 94.7 - 96.0 and 103.5 - 104.9 MHz or thereabouts, used for BBC local radio, or BBC Radio 4 in Scotland, BBC Wales and BBC Cymru and are also shared with independent local radio (ILR) in places, are pretty busy too. Not doing too well so far... However, an analysis of the ILR bands (96.1 - 97.6 and 99.9 - 103.4 MHz and 105.0 to 107.9) shows some interesting anomolies.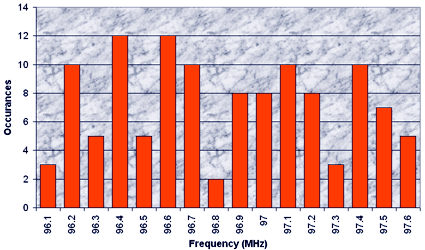 In the lower of these two bands, the frequency 96.8 is only used twice (though it is home to a whacking 250kW BBC Cymru transmission in Wales) and 96.1 and 97.3 are only used 3 times.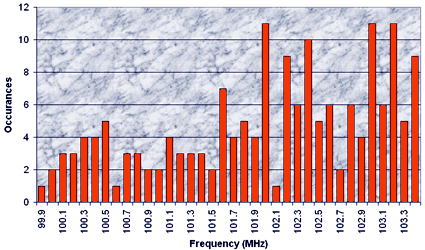 In the range 99.9 to 103.4, 99.9, 100.6 and 102.1 MHz are only used once (though the band 99.9 to 102.0 is repleat with very high powered Classic FM transmitters) and there are several frequencies only used twice across the UK. Finally, in the range 105.0 to 107.9, the frequencies 105.0 and 105.5 MHz are not used at all, and the frequencies 105.1, 105.3, 105.9, and 106.5 MHz are only used once.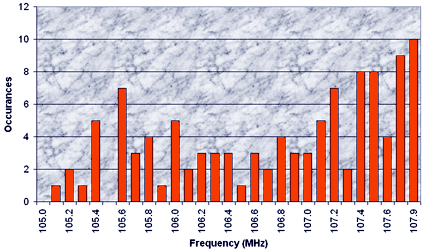 Although this analysis is based on slightly old data (2005) published by Ofcom it does tend to suggest that in addition to 87.5, there are other frequencies which might provide relatively interference free iTrip usage across the UK without needing to re-tune. Unless your local station happens to be one one of these frequencies (or one adjacent to it), I would suggest 99.9, 105.0 (or 105.1) and 106.5 MHz as possible alternatives.
add comment
( 914 views ) |
0 trackbacks
|
permalink
|





( 3 / 5112 )