48 metre Bandana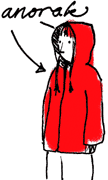 There's a term used in the UK which takes its roots from an overgarment worn by many to keep dry on particularly squally days. The aforementioned garment is an 'Anorak', which is a kind of winter jacket which, no matter what you wear it with, will never look fashionable (the possible exception being Paddington Bear who at least looked cute, though it could be argued that Paddington wore a Duffle Coat rather than an Anorak if we're being pernickety). The Anorak is generally rather unpopular, being an ugly but practical kind of a coat; but due to the fact that it is a rather warm item to wear, those who spend a lot of time outdoors but do no exercise and thus are in need of something to stop them freezing whilst standing around have taken the Anorak to heart as their overcoat of choice.
But who, I hear you ask, would want to spend all day standing around doing nothing especially if it was cold or raining? A very good question! The Anorak became (and to some extent still is) the de facto uniform of those with hobbies such as train, bus or plane spotting, collecting number plates, "
Oooh, V355LOX, a rare one from the OX series when they misprinted the 5 so that it looks like an S and it reads 'V35 SLOX'
", watching grass grow, and so on... In the UK, however, the term 'Anorak' has come to be associated with anyone whose hobby is just a little bit weird, sits in a niche so small that only a handful of people understand it, is a touch excentric or is just very, very dull. And thus, most avid radio listeners, especially short wave listeners, DXers and even radio amateurs are regularly tarred with the Anorak moniker.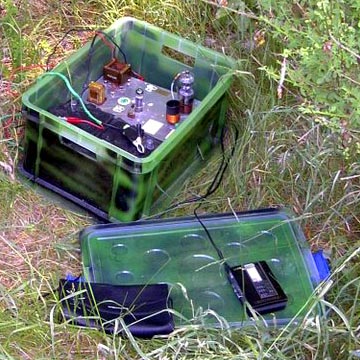 Why is this of much (if any) interest? Well the picture on the right (click it to see it in its full glory), which is a rather splendid example of a clandestine pirate radio transmitter, designed to transmit music programmes on short wave, brought me to thinking about why the stalwarts who built and operated such things continued to do so. I can think of 2000 or more salient reasons why it's no longer such a good idea:
1. No one (except Anoraks - see above) listens to short wave any more.
2. In most locations, the amount of background noise from computers, electrical equipment and the like makes short wave reception virtually impossible.
3. That aside, short wave reception does not lend itself to listening to music due to the annoying fading in and out.
4. If you want people to hear your radio presenting skills, there are easier and cheaper way of doing it - just upload a programme onto the internet.
5. There are 15,000 better things to do with your time (like collecting number plates for example).
6. If you get caught, the fines can be large (GBP2,000 plus 6 months in gaol).
7. And so on...
So why do the operators stations such as
AlfaLima
and
WR International
continue to spending their hard earnt cash and wasting their weekends building, setting up and operating such equipment. I would venture to suggest that there's still a real buzz associated with doing so. For a start, it's illegal, and flouting the law often gets the adrenalin flowing (not that I'd know of course). Then there's the kudos you get by being received by other short wave anoraks, 'Radio Flump was sounding hot last Sunday morning - SINPO 32232 - Best signal yet - I could almost make out what DJ Bobbisox was saying'. Also there's a little bit of exhibitionism and showing off in it, and that too provides an ego boost all of its own.
I argue, therefore, that the real anoraks are those people who tune into and listen to such short wave pirate broadcasts but make no attempt to join in the real fun and build a transmitter and get on air with the pioneers, pirates and thrillseekers who supply their fun to start with. So instead of tuning around the band, get your soldering iron out and build a
Grenade
or a
Corsair
, record a rubbish radio programme full of music that you think is cool but everyone else has forgotten, find a remote location, set up a transmitter early on a Sunday morning instead of lying in bed a couple of hours longer. And in the process... throw away your anorak and replace it with a skull and crossbones headscarf instead.
add comment
( 1194 views ) |
0 trackbacks
|
permalink
|





( 3 / 3596 )