Intermodulation: What's All This Then

Intermodulation (intermod for short) is a common problem besetting virtually every radio system in existence. This particular problem occurs when two (or more) signals mix together in a non-linear device creating emissions on frequencies which are directly related to the signals being mixed together. It is the same process that is used in the mixers of most superheterodyne (don't worry if this means nothing to you) receivers, where it is a wanted outcome. Intermodulation is therefore mixing which produces unwanted outcomes.
It works a bit like this: Whistle or sing two notes at the same time (OK, this bit is rather difficult, but run with it for now...) In their natural form, each note will be 'pure' or 'clean' and both notes will be distinct from each other. Now whistle or sing the same two notes through a
kazoo
. If you've ever heard a kazoo played, you will realise that it works by distorting the sound going through it by moving a membrane (often paper) to its extremities, in essence limiting the audio and producing a square wave output from the sine wave input. The effect of any such non-linear distortion on the two notes will be to mix them together and the resulting output will be rich in all sorts of notes and sounds that weren't there in the first place.
The same can happen with radio transmissions. Any two signals passing through a non-linear device produce outputs that were not there to begin with. Though I could run through the maths and prove that such signals actually do exist, it's a little easier just to tell you what the result is.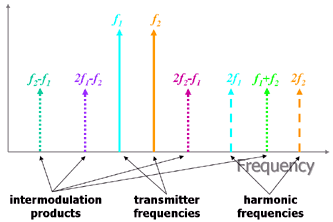 Let's assume that the two frequencies that we are interested in are
f¹
and
f²
. The non-linearity will produce harmonics of these frequencies at
2f¹
,
2f²
,
3f¹
,
3f²
,
4f¹
,
4f²
and so on... In addition to this, it will 'mix' these harmonics together with themselves and with the original signals to produce frequencies like
f¹+f²
,
f¹-f²
(these are the outputs we would want if we were using the process for mixing). Frequencies of
2f¹-f²
and
2f²-f¹
are known as the 'third order intermodulation products', third because they are composed of three lots of the input signals (two of one and one of the other) and are usually the most problematic because they are closest in frequency to the original signals. Fifth order intermodulation products
3f¹-2f²
and
3f²-2f¹
are the next nearest; then seventh (and every odd number thereafter). The problem gets even more complex when there are more than two signals getting mixed together. The even order intermodulation products are usually far removed (in frequency terms) from the original signals and thus cause fewer problems.
If we use real frequencies as an example, let's say we have transmitters on 80 and 85 MHz, the third order products will be at 75 and 90 MHz, the fifth order at 70 and 95 MHz. So we can end up with signals in the FM broadcast band from transmitters that were originally well outside it (and vice versa).
Intermodulation commonly occurs at the receiver (due to distortion in the sensitive amplifiers) but can sometimes occur at a transmitter, though this is more often caused by dodgy connections than by the transmitters themselves. There are stories of 'rusty bolts' on metal structures such as cranes acting as crude diodes (which are highly non-linear) producing intermodulation products if they are in strong radio fields. Because of this problem with receivers, it's not at all uncommon to receive a signal on a frequency where no signal is actually present, a 'ghost signal' as some have called it. Normally, putting an attenuator in line with the antenna will make the ghost signal completely disappear, proving that it is an intermodulation product and not a real signal (for every dB that a real signal decreases, the third order intermodulation products will usually drop by 3dB making them easy to detect).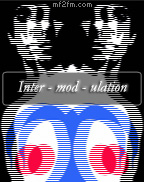 Those responsible for choosing frequencies for transmitters in a given area, usually try to avoid putting transmissions on frequencies where the intermods would fall on the frequency of a nearby receiver, especially if the victim receiver is on the same site. Taking the example above, at a site where a receiver operates at 75 MHz, planners would usually avoid a combination of frequencies (e.g. 80 and 85 MHz) that might result in intermodulation causing ghost signals to cause interference. This is normally one of the rules employed when planning the FM broadcast band (though oddly, the frequencies for BBC's national networks are totally counter to this logic and seem to work fine), and within PMR, cellular and microwave bands great care us taken to try and avoid a ghost signal appearing in any particularly scary locations!
With radio transmitters proliferating rapidly, the problem of intermodulation is growing, especially in dense radio environments and on busy sites. Improvements in receiver electronics are able to tackle some of the problems, but as pressure increases to make efficient and effective use of the spectrum, the problem of intermodulation isn't going away and in the end may prove one of the major limiting factors in maximising the density with which radio services can be packed together.
add comment
( 1187 views ) |
0 trackbacks
|
permalink
|





( 3.3 / 8697 )