Bye bye broadcasting, hello mobile dongle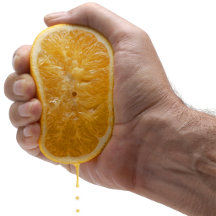 Apparently, mobile phone operators are beginning to run out of capacity on their networks due to all the data traffic that is being generated by smart-phones and people using broadband dongles in their laptops. Of course, whether or not this is true or not today or whether it is just an excuse for poor service quality, there will almost certainly come a time in the relatively near future when it the squeeze on spectrum becomes reality.
A typical mobile operator in an average European country will currently have access to something like 100 MHz of radio spectrum - 50 MHz for the uplink from phones to base stations and another 50 MHz in the opposite direction - more commonly written 2 x 50 MHz. This will be in usually two (or more) of the commonly available mobile bands, such as:
* 900 MHz (actually 880 - 915 and 925 - 960 MHz)
* 1800 MHz (1710 - 1785 and 1805 - 1880 MHz)
* 2100 MHz (1920 - 1980 and 2110 - 2170 MHz)
So when they do run out of spectrum, what can they do? Well help is at hand in the short term through two new bands which are being released. The first, known as the 'digital dividend', has become available due to the more efficient planning of television broadcast networks that has arisen as a result of the switch-over from analogue to digital broadcasting. The second, at 2.6 GHz, was (and in some countries still is) used for a multitude of purposes including wireless video cameras, wireless cable networks and fixed wireless broadband. Together, these two bands make just over another 200 MHz of spectrum available:
* 800 MHz (791 - 821 and 832 - 862 MHz) - the 'digital dividend'
* 2600 MHz (2500 - 2570 and 2620 - 2690 MHz) - note that the gap between 2570 and 2620 MHz is also available
If you assume that an average country has 3 or 4 mobile operators, this equates to something like another 60 MHz (2 x 30 MHz) each, resulting in a 60% increase in their capacity.
So what's the problem? Some observers (eg
Cisco
) claim that mobile data traffic is doubling roughly every year, so this 60% increase in capacity will amount to about 8 months of traffic growth, then the problem starts all over again. New technology will deal with some growth. Newer mobile technologies from HSPA+ to LTE and LTE-Advanced may offer a doubling in capacity over current 3G (UMTS) networks for each unit of spectrum. Another year dealt with, and only at the cost of changing over all of the network equipment and handsets!
On this front, it is perhaps no surprise that UK mobile operator O2 recently announced plans to offer
free WiFi
for all. Why is this no surprise? If the traffic from smartphones and laptops can be offloaded from the mobile network to WiFi hotspots, this will ease the burden on the mobile network. But this is a relatively short-term fix too. In the long term, the only way that mobile operators will be able to deal with the growth in data traffic is to get access to more spectrum. But where will this spectrum come from?
It has long been recognised that to offer a sensible (in terms of cost, coverage and capacity) mobile network, frequencies in the range 300 to 3000 MHz are best. Go any higher and things such as Doppler shift and cell handover become real problems. Go any lower and antennas become too large and unwieldy. The problem is that the remaining frequencies in this range are already being used. In general terms:
* 300 to 430 MHz is military territory
* 430 to 440 MHz is radio amateur land
* 440 to 470 MHz is full with PMR systems
* 470 to 790 MHz has UHF television broadcasters in it
*
790 to 862 MHz is already mobile
* 862 to 880 MHz houses all manner of low power devices
*
880 to 960 MHz is already mobile
* 960 to 1350 MHz is where aircraft radars and some radio amateurs live
* 1350 to 1710 MHz is for satellites (including GPS), broadcasters and more tanks, planes and guns
*
1710 to 1980 MHz is already mobile
* 1980 to 2110 MHz is partly mobile and partly full of military folk
*
2110 to 2170 MHz is already mobile
* 2170 to 2400 MHz is mostly military
* 2400 to 2500 MHz is WiFi and bluetooth land
*
2500 to 2690 MHz is already mobile
* 2690 to 2700 MHz is where radio astronomers hang out (mostly in cardigans)
* 2700 to 3100 MHz is aircraft and maritime radars
If any more space is going to be made for mobile services, someone else is therefore going to have to give up their claim to their territory. In some countries (eg Sweden) 2300 to 2400 MHz is being made available for mobile services but in the majority of European countries it is used by the defence services who, having already vacated other spectrum, are beginning to fight back.
Clearly, anyone who moves out for the benefit of mobile services will either have to stop doing what they do (unlikely) or go and do it somewhere else (costly). For any international service (eg boats and planes) this cannot be done unilaterally and getting international agreement is probably too slow. What's more, radars and things such as that need a lot of spectrum due to the way they work and furthermore, removing them might cause planes to fall out of the sky, which would seriously disrupt tourism in many parts of Europe that aren't very close to where you live (though it might have a potential commercial upside for undertakers).
Wireless Waffle
is therefore going to stick it's neck out and make a proposal as to who should lose the battle for this important part of the spectrum and that is ... the broadcasters!
On a completely different, but not unrelated tack, the amount of energy consumed by a terrestrial broadcasting networks is, well, large. Not 'a whole power station' large, but still pretty big. The amount of energy consumed by a satellite is tiny. In fact, once it's up in the sky, it's zero (they are solar powered). A terrestrial broadcast network also delivers much less capacity than a satellite. So broadcasting by satellite consumes much less power (and therefore has a much lower carbon footprint) and offers much greater capacity (for services such as 'The Cartoon Network' in HD). Let's therefore turn off UHF broadcasting and give the spectrum to mobile networks - the broadcasters can go to cable and satellite and can continue to use the VHF band if they really want to.
What would a world without UHF broadcasting look like. In somewhere such as the Netherlands where 90% or more of homes are on cable, not a lot different. It would mean that people's holiday homes might need a satellite dish but these are so cheap and plentiful it should be no big deal. In the UK where most homes still have a terrestrial UHF receiver you might think this would be a bigger deal, but over 50% of homes have either satellite or cable already and again, having to buy a dish is no biggie, so other than the temporary inconvenience of swapping set top boxes and putting a dish up (or getting connected to cable) nothing much would change.
If they so desired, public service broadcasters could continue terrestrial television broadcasting using the VHF band - by switching off those ancient and largely unlistened-to DAB transmitters. DAB could be replaced by DRM and Bob's your uncle - no loss of anything important, just a bit of shuffling around.
If all this sounds far fetched, watch this space. Or, perhaps more accurately, watch
outer
space!
1 comment
( 22066 views ) |
0 trackbacks
|
permalink
|





( 2.5 / 8638 )