What are the chances (Part III)?

Previous posts entitled '
What are the chances?
' have mostly been about the chances of pirate

radio stations causing enough interference to merit the authorities tracking them down. In a sense, there is a certain similarity between that topic and the one discussed here as the question that's being explored today is 'What are the chances... of receiving interference from 4G networks at 800 MHz if you are a UK DTT viewer?' Rather a long title, but as of this week, an organisation called Digital Mobile Spectrum Limited (DMSL) who are badging themselves as
at800
have been given £180 million specifically to try and answer exactly that question.
So what is the problem exactly? The UK has just auctioned spectrum which is colloquially known as the 'Digital Dividend'. This radio spectrum was previously used for television broadcasting, representing channels 61 to 69 inclusive (790 to 862 MHz). Many people have antennas and receivers that were receiving television pictures on those channels until very recently. As of now, these frequencies are going to be used for 4G mobile services. Once these services are on-air, there will be mobile base stations transmitting on frequencies which it is possible for set-top boxes and digital televisions to receive - though as mobile and television technologies are different, they won't receive pictures, just the signals (a bit like listening to a conversation in a foreign language - you can hear it but you can't decipher it).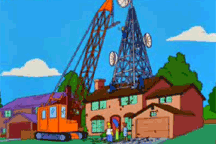 Under certain circumstances, it is possible that the 4G transmissions could cause interference to television (Freeview) reception. The circumstances are complex but generally if television transmissions on channel 59 or 60 are being used in a particular area, the receivers will be more susceptible to interference. If those receivers are close to a mobile base station transmitting at the lower end of the new 800 MHz mobile band, then interference could be caused (mobile operator 'three' have the frequencies at the bottom of the band most likely to cause a problem). Calculating who will be affected is therefore rather complex - it is a combination of which television transmitter they are watching, how far away from it they are, and how close to a three base station they are. Thus it is not straightforward to identify whose viewing might be disrupted.
All is not lost though, as there is a way to solve the interference. The solution to the problem is to fit a filter which allows the television transmissions through but blocks the 4G signals. at800 have been given the money to help work out who will be affected and to pay for filters to be fitted. It has been estimated that up to almost 1 million UK television households could be affected. The key here is 'could be...' because experience in other countries where 800 MHz services have already been launched is that they have not led to the degree of interference problems that are predicted.
There is no doubt that some households will be affected, but the numbers could be well below 1 million. Those which are most susceptible are those which are in areas where television signals are already weak. In some of those areas, viewers will have fitted amplifiers to their TV antennas to boost the signal. These amplifiers are particularly susceptible to interference and can even be completely overloaded by strong 4G transmitters. Similar amplifiers are also used to distribute signals from a TV antenna to multiple television sockets. Some houses with multiple sockets may have an amplifier fitted and not even be aware of it. In blocks of flats the same idea applies. These situations will make fitting a filter more complex, but still feasible.
In some (rare) cases, it is possible that no amount of filtering will solve the problem. In these circumstances at800 has the power, and the money, to replace the terrestrial television system with an alternative such as cable or satellite.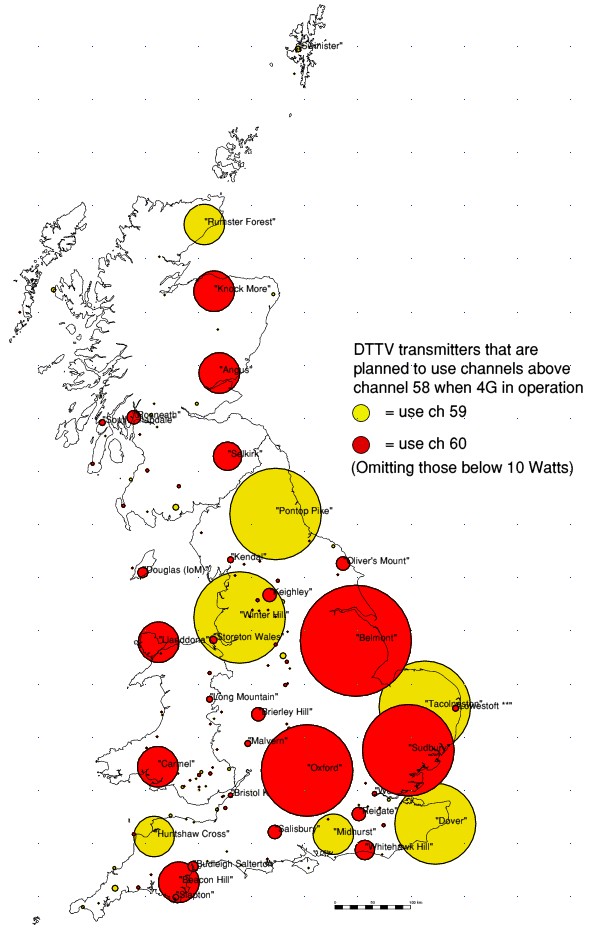 Should you be worried? Firstly, you need to understand whether the television transmitter in your area uses channels 59 or 60. The map on the right (click for a larger version) shows
those television transmitter which will use these channels
. If you are served by one of these transmitters then that puts you at a higher risk. If you are towards the edge of the coverage area then your risk is increased. If you are near a three base station your risk is further increased (sadly there is no simple way to determine this). If you are affected, what will you see? In a word... nothing! Your reception of any programmes transmitted on the frequencies represented by channels 59 or 60 will stop, dead. Alternatively, the picture might break up badly.
Unfortunately, losing reception or having bad reception is not necessarily evidence of interference from 4G base stations. It could be caused by a myriad of other problems. This is what makes the job of at800 that much more difficult. They will need to decide, when confronted with an apparent case of interference, whether 4G is the cause or whether it is something else. Their decisions on this will no doubt prove controversial!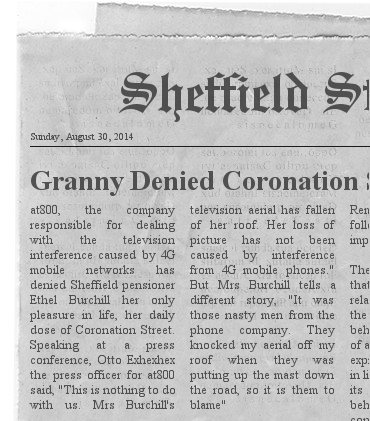 If you use satellite (Sky or Freesat) or cable then you don't need to worry. If you use Freeview, then perhaps now would be a good time to check your reception, at least then you will know whether anything changes.
1 comment
( 767 views ) |
0 trackbacks
|
permalink
|





( 3 / 994 )