DAB Dead Line?


Yesterday was the final day for
applications to Ofcom
for a new national digital radio (DAB) multiplex licence. The licence was first advertised on 1 July 2014 with a deadline for submissions of 31 October. The deadline was then extended to 29 January to, according to
a516digital
, "allow a prospective licence applicant sufficient time to obtain information from Arqiva, which owns many DAB transmitter sites."
Two companies have applied for the licence:
Listen2Digital: A joint application from Babcock Media Services and Orion Media, a commercial radio group. Babcock Media run the transmitter network for BBC World Service.
Sound Digital: A consortium of Arqiva, a transmission company, and commercial radio broadcasters Bauer and UTV Media GB. Arqiva is the monopoly who run the existing UK digital TV, DAB and the majority of FM transmitters.
This year will mark the 20th
birthday of DAB
radio. According to Ofcom's latest
digital radio market report
:
...over the full 12 months to June 2014, digital listening (including DAB, DTV and online) accounted for a 36.3% share of all radio listening hours.
Note that this includes listening on digital television (DTV) and online via the web. The same report also states that:
Two-thirds of digital radio listening is through a DAB set.
Taking both of these into account, the report shows that DAB accounts for just under 24% of all radio listening hours. Of the digital-only stations, only 5 have audiences of over 1 million listeners.
| Station | Audience | Audio Quality |
| --- | --- | --- |
| BBC 6 Music | 1,855,000 | 128 kbps, stereo |
| BBC Radio 4 Extra | 1,654,000 | 80 kbps, mono |
| Absolute 80s | 1,168,000 | 64 kbps, mono |
| 1Xtra from the BBC | 1,099,000 | 128 kbps, stereo |
| Radio 5 live sports extra | 1,039,000 | 64 kbps, mono |
For comparison Absolute Radio reach 1 million listeners in London alone, using one FM station and not a network of dozens of national (and expensive) digital transmitters. Capital Radio, BBC Radio 2 and BBC Radio 4 all have over 2 million listeners in London. The cost per listnener, therefore, for digital services is far, far higher than for older technologies which is in part, forcing the quality of the services down (and into mono). That being said, these digital-only stations have larger audiences than any station outside London (Free Radio in Birmingham, arguably the largest station outside London, reaches around 380,000 listeners).
As is clear from the table above, many services, even the popular ones, are in mono on DAB (though in stereo on-line and on DTV) and use very low bit-rates (remember that these are encoded in mp2 not the more common and higher quality mp3). The low bit-rates and mono signals mean that many of the services sound dull and lifeless compared to their analogue, FM, competitors.
Though Ofcom paint an upbeat picture, in particular citing that digital radio listening has increased by 2.4% over a 12 month period, this hides the fact that digital's share of listening has stagnated over the past year (it was 36.8% in the second quarter of 2013 and exactly the same in the second quarter of 2014).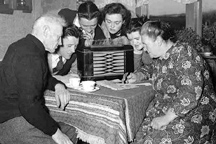 The new national digital radio licensee, once on-air, will be able to run DAB+ on their multiplex which will at least offer the use of mp4 audio encoding and hopefully, therefore, better quality audio (though it does not stop them using even lower bit-rate mono). The bigger question has to be whether there is really a business case for digital services. The cost of transmission is high, listenership is low (and not growing significantly) and the quality is poor. Which is exactly why medium-wave broadcasting is dying a death.
Ofcom has set criteria that will determine when the time is right to switch-off analogue transmitters and go fully digital. It requires that 90% of the UK has a digital signal and that 50% of listening is on digital radio. With digital radio listening stuck below 40% and no real signs of growth, it looks as if these criteria will never be met. Of course if you applied the same criteria to FM broadcasting, we would be switching off digital radio today.

Unless something fundamental changes, it's difficult to see how DAB is going to suddenly become the default method of listening to radio. Even listening via the Internet (using apps such as
TuneIn
) will be unlikely to become the default method of listening to radio given the simplicity and low price of FM radios (and the fact that listening on FM does not use any of your monthly mobile data allowance). The only way this could happen is if there is a ban on the sale of FM radios. It would, however, be political suicide for any regulator to enforce such a ban as both broadcasters and listeners would no doubt complain very vociferously.
So what is the future of DAB? Does it have one at all? Or is it time to set a DAB 'dead-line' and turn it off? Your views and thoughts very welcome!
2 comments
( 485 views ) |
0 trackbacks
|
permalink
|





( 3 / 402 )