So farewell, then, analogue TV

A year ago Wireless Waffle posited the notion that we were
beginning to see the end for digital terrestrial television
. Just over a week ago in Geneva, the ITU
celebrated the date
on which, in Region 1 (Europe and the Middle East) and Iran, protection of interference for analogue television services ceases, and digital is the only protected broadcasting service. This 'celebration' presented the position from across the region where there is an extremely wide range of 'success' from countries who have already switched off analogue television, to those who are yet to launch any digital services at all. Of the 119 countries that form Region 1, only around 40 have completed switch-over - hardly a 'success' to be 'celebrated'.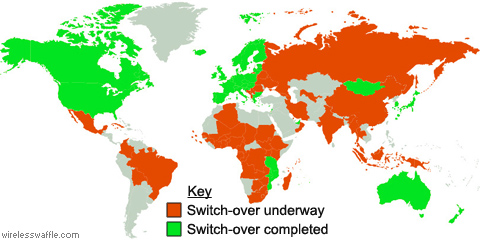 Director of the
ITU Radiocommunication Bureau
, François Rancy, explains the situation.
Let's stop fooling ourselves - digital terrestrial television (DTT) as a platform for delivery of everyday TV, is already on its last legs in many countries, or at least it has a bad case of arthritis. Like many of today's technologies, it is a fixed point in an evolving market and eventually it will be overtaken. Analogue television had its purpose, but is beginning to be phased out. Digital terrestrial television will do likewise, no matter how strongly bodies such as the
EBU
argue that it will remain important until 2025 and beyond.
When DTT was launched, its ability to offer dozens of television channels, and use less spectrum and less electricity made great strides forwards. But the digital world is moving ever faster and DTT is beginning to lag behind and will surely, over the next 10 years, become the lame horse of television broadcasting.
Why? Here's 5 good reasons:
Televisions are getting bigger and resolution is improving. When DTT launched, standard definition television was the norm. The norm now is becoming High Definition television, which requires double the bandwidth of standard definition, meaning that the DTT platform can now carry only half as many channels. With the move to Ultra High Definition, or 4K, each television transmitter will, at best, be able to carry 2 (and in the future, as video compression improves, maybe as many as 3) channels. Thus the wide range of content currently available on DTT will slowly wane such that even with a half-dozen multiplexes, the DTT platform will only carry 15 to 18 TV channels. Compare this with the hundreds that cable, satellite and even the internet will offer.
What's more, the availability of these alternative delivery platforms is increasing. Satellite, of course, provides near universal coverage already, and though it would be fair to say that the coverage of cable TV networks is not growing significantly, the delivery of television over IP networks (IPTV) such as BT Vision in the UK is only dependent on the availability of a broadband internet connection and most countries are investing heavily to make these as ubiquitous as possible.
Whilst household screens are getting bigger, not all viewing is on such big screens. Watching TV on tablets and smartphones is becoming commonplace and although DTT proponents argue that DTT receivers could be built into such devices to allow them to view their transmissions, the manufacturers of such devices appear reluctant to do so. The connection to such devices is WiFi, 3G, 4G or even 5G but not DTT.
Although national television broadcasters (such as the BBC, ARD or France Televisions) still account for a very high proportion of viewing, an increasing amount of this viewing is non-linear, that is to say that it is not live, but catch-up through platforms such as the BBC's iPlayer. Certain content will always remain linear due to its immediacy, such as sports events and communal television such as talent shows and soap operas where the ability of all to share a common experience is important. But the use of non-linear television for other programmes such as factual programmes or dramas to allow them to be watched at the convenience of viewers will surely become the standard.
Finally, the take-up of over-the-top services which do not rely on standard broadcast content but which have a catalogue of material which viewers can watch at their discretion (e.g. Netflix or Hulu) are starting to become the preferred way to relax and watch a programme. Watch what you want, when you want, without being beholden a particular broadcaster's choice of schedule of what you should watch at a particular time of day.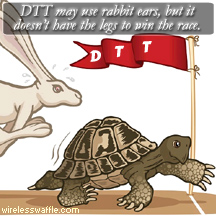 Proponents of DTT argue that:
it can continue to operate in disaster situations (but no-one will have any power to watch TV, though they may well have batteries in their radios);
that it is the cheapest way of delivering mass TV (this is singularly dependent on the number of viewers that use the platform - fewer viewers = higher cost per viewer);
that it is the only platform under national control (e.g. that it is not owned by nasty foreigners that might turn the service off, such as the normally docile Luxembourgeous that own the Astra satellites);
and so forth...
All these arguments do hold water, but so does a colander, for a short time.
Is it really likely that, in ten years from now, we will all still be sitting down at 10pm to watch the news over terrestrial television, or that at 10:17 after we have finished watching the ninth season of House Of Cards on Netflix, we launch our custom news channel which provides a set of news reports tailored to our interests. As
E. J. Thribb
would no doubt have it:
So. Farewell then
Digital
Terrestrial Television

Your days were
numbered

With ones and naughts

And now you
are
but naught

At one
with
your analogue
predecessor.
add comment
( 186 views ) |
0 trackbacks
|
permalink
|





( 3 / 1407 )