A Noisy Noise Annoys (Part 2)

Monday 10 March, 2008, 18:25 -
Amateur Radio
Posted by Administrator
<rant>
Whilst visiting Oxford this week, a quick scan around the 70cm band yielded a number of repeaters that aren't normally receiveable from my regular location. Amongst these was
GB3WO
, near Witney in Oxfordshire. Nothing unusual there. Except that upon setting the right CTCSS tone and firing up the repeater, it was distressing to find that it remained open and was emitting a horrid buzzing/whining noise like someone was attacking it with a chainsaw. The culprit for the noise was clearly one of the many low-power licence-exempt data links used for devices such as weather stations, doorbells and the like.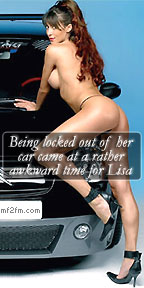 I've
already discussed
the issue of allowing these devices into the UK 70cm repeater band and poor GB3WO was suffering the consequences (of course, the addition of a requirement for all transmissions to have CTCSS as some repeater operators have done would help the situation but would not stop the repeater input being jammed by such a device, only stop it being relayed). I've also
recently highlighted
the problems of being a secondary user in the 70cm band and the associated difficulties in getting interference dealt with.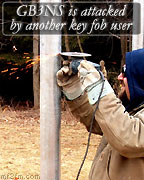 But it seems that the problem is getting even worse. Repeater
GB3NS
in Banstead, Surrey had to be taken off-air because of these low power devices. It used to operate on RB10 (output frequency of 433.250 MHz) but was forced to cease operation when it was shown that it was causing blocking of car key-fob receivers in a nearby car-park which was in turn causing the car rescue organisations to be repeatedly called out to cars that wouldn't open or start. It was eventually shown, following practical on-air tests, that a change to a 70cm wide-space (7.6 MHz split) channel assignment circumvented the problem and eventually 'NS was re-licensed and radio hams can now use this repeater again (output is on 430.925 MHz and input on 438.525 MHz which also keeps the input frequency thankfully free of these annoyances). So this is a real example of a secondary user of a band being forced to cease transmissions to protect a tertiary or non-interference basis 'NIB' user - clearly in this band, radio amateurs are not just second-class citizens but have no rights at all.
Worst still, through an almighty lack of foresight, many of the new, digital
D-Star
repeaters have been given frequency assignments with an input frequency of 433.9125 MHz - just 7.5 kHz down from the 'centre' of the low-power licence-exempt band. Interference at this frequency is so bad that one repeater has already had to be taken off-air until a new assignment can be allocated, as the following press-release tells:
A newly operational D-Star repeater in the United Kingdom has been forced off the air due to interference on its input from unlicensed devices. The Radio Society of Great Britain's Emerging Technology Co-ordination Committee website reports that the GB7YD-C, 70cm D-Star system has been removed from service until an alternative frequency can be found. According to the coordinating committee, problems have been experienced at other United Kingdom 70 cm D-Star repeaters with an input on 433.9125 MHz.
The most annoying aspect of this situation is that the rules under which these low-power licence-exempt devices operate require them to accept any interference that they might experience, and not to cause any interference to licenced users of the frequencies on which they operate. Yet (in the UK at least) they are being given privileges that are greater than that of secondary users whose status is legally higher. They are certainly becoming more than just a noisy annoyance, but can anything be done to rectify the situation?
A review conducted by the European Radiocommunications Office, known as the
Detailed Spectrum Investigation Phase II
(DSI 2) and published on 13 March 1995 (i.e. 13 years ago) specifically recommended:
… an allocation be agreed for a general low power band at 403-404.5 MHz intended for new applications and to avoid placing new equipment at 433 MHz unless absolutely essential, the 433 MHz band to be subject to a general review at an appropriate time.
It made this recommendation because:
Amateurs in CEPT countries, particularly suffer from ISM interference in the 433.92 MHz ISM band. Similarly manufacturers of low power systems using this band are concerned at the interference potential of amateur emissions.
So this problem was identified, and a solution proposed, so long ago that it could now be something of the past. Obviously something has changed at the ERO, who now seem
intent upon
converting radio amateurs (who have been responsible for much of the propagational and technical research and innovation that drives today's wireless industry) into operators who can do little more than clean up the sweepings on the spectrum floor and be content with any titbits they might be thrown. Might this change of heart be something to do with the fact that at the time of the DSI, the head of the ERO was a radio amateur (OZ3SDL) but it is now headed by Mark Thomas, ex-Ofcom, a man who abolished the minimum bit-rate for UK DAB radio services and of whom Google brings up the thoughts (
check for yourself
if you don't believe me):
Gone to ERO in Denmark, and good bloody riddance …

So, it seems, radio amateurs are right royally stuffed! Having realised this, one thought springs to mind - why not take away lots of the amateur bands that are lightly used (30m, 12m, 23cm, 13cm, 9cm and so on) and instead allow amateurs to 'roam free', and use any frequency that is otherwise available. This is the concept being argued for by proponents of
cognitive radio
, whereby sensitive receivers sweep available frequencies to identify unused ones and then communicate on those - if a transmission on that frequency is later detected the cognitive radio senses this and moves elsewhere. Now amateur radio systems are almost all set up with the intention of being able to detect weak signals, and thus if any frequency
appears
unused at a given location, there's a fair chance that it
is
unused in that neighbourhood. And instead of being controlled by software, an 'amateur cognitive' transmitter would be controlled by a living, thinking person with a respect for the radio spectrum and its users. Indeed amateurs could once again be at the forefront of technology by conducting real-life assessments of the potential for cognitive radios to cause interference and thus informing the wider discussion on the use of such devices.
Maybe, just maybe, taking some action now might return amateur radio and its users to a position of innovation and respect amongst the wider radio community instead of just being viewed as
bolshy
CB operators?
</rant>
1 comment
( 1579 views ) |
0 trackbacks
|
permalink
|





( 3 / 7953 )
Frequency Asked Questions

Thursday 31 January, 2008, 20:22 -
Amateur Radio
Posted by Administrator
A quick scan of the 430-440 MHz (70cm) amateur band in the UK usually reveals very little, other than the occasional repeater and one or two low-power licence exempt data transmitters (for weather stations and so on). But the other day I stumbled across a number of transmissions in the band which puzzled me.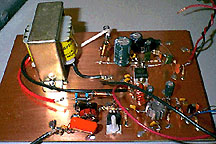 The first of these were foreign voices being transmitted on what was clearly some kind of repeater on a frequency of 430.0375 MHz. This turned out to be an
Echolink
node near Heathrow Airport in London that was being accessed by some Maltese radio amateurs. OK, so I should have known about this and it's certainly no mystery. But then I heard something similar on 430.0875 MHz and as far as I can make out, there are no Echolink nodes on this frequency in the UK.
The next signal was encountered when listening to the GB3FN repeater on 433.375 MHz. I kept receiving bad adjacent channel interference. In the end this turned out to be a strong voice transmission on 433.3875 MHz (12.5 kHz up from the repeater output). From my memory of the 433 MHz band in the UK, the Ministry of Defence (MoD)'s MOULD repeater network has outputs that are interleaved between the UK repeater network outputs (a bit of a silly arrangement if you ask me - just asking to be overheard), so this is likely to have been one of these - but could equally be an illegal user making use of amateur equipment with the hope of going unnoticed (in which case it was a bad choice of frequency).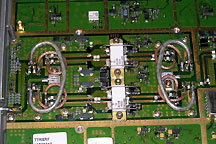 Finally, I have noticed a data carrier on 437.575 MHz which seems to be on-air continuously (at least it's always been there when I've listened). At first I thought this might be a spurious response from some other frequency but checking on a second receiver the signal was there too which pretty much confirms it. This part of the 70cm band is (according to the UK bandplan) assigned for amateur television and satellites. The signal is too fluttery when mobile, and too steady when not, to be a satellite (and anyway the frequency is not listed for any amateur satellites I could find) and is certainly not television. All this means that the things I've heard could be:
* Perfectly legitimate transmissions from the primary user of the band (the MoD)
* Radio amateurs operating outside the bandplan
* (In the case of the 437 MHz signal) An illegal link set up in the band hoping no-one will notice
The difficulty is that, because radio amateurs are secondary users of 70cm in the UK, it is to be expected that other signals will be found in the band. However, as it would be against the terms of the operating licence to listen to non-amateur transmissions, it is effectively illegal to listen to these signals to try and identify their source - we cannot police our own frequencies.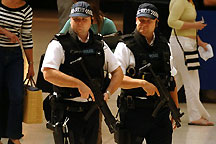 Unless the 'powers that be' (or the primary user) take an active interest in monitoring the band, it is therefore quite possible for illegal usage to go unnoticed and unreported. It is quite likely that if anyone is monitoring they put any anomolies down to radio amateurs.
Now the use of frequencies (430.0875, 433.3875 and 437.5750 MHz) by some other user does not necessarily represent a mass invasion of the band by unwanted types, but it does serve to highlight a problem. The only (legal) recourse to action is to report this usage to
Ofcom
and let them investigate (though by doing so you would have admitted to having heard them and thus breached your licence already). Which offers up a second problem - if the transmission is found to be legitimate, you have to pay Ofcom for the privelege of them telling you so (at least that seems to be the case - their web-site does not specifically touch the matter as amateur radio is not a business radio user nor is it domestic television or radio reception). Whether Ofcom have a database of MoD usage and thus would be able to dismiss any enquiry rapidly is unclear.
As secondary users, radio amateurs must accept any interference caused by the primary user, and this is an accepted symptom of sharing the band. But does it also mean that we are to suffer interference from potentially unlicensed and illegal users, without any clear method of redress? Or worse, be blamed for such intrusions? It seems this may be the case. For now, I thought the best thing I could do was post the frequencies here and see if it raises any interest from the UK radio amateur community.
1 comment
( 1523 views ) |
0 trackbacks
|
permalink
|





( 3 / 7115 )
A Noisy Transatlantic Oyster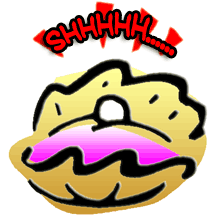 In a
previous post
I discussed the fact that the
powers that be
in Europe had taken a decision with respect to low power, licence exempt radio equipment that meant that the 'heart' of the 70 centimetres amateur radio band had been ripped out due to a mountain of noisy interference produced by wireless doorbells, weather stations and so on.
But that's not the end of the story, or so it would seem. Not content with annoying noisy oysters by wiping out 433.500 MHz (the EU 70cms FM calling channel) as well as the repeater input and output frequencies in the UK (as well as Finland, Slovenia and certain other countries) from 433.000 to 433.375 paired with 434.600 to 434.975 MHz, I recently discovered that they have also managed to pull the wool over our eyes with respect to another travesty against 70 cms radio amateurs. But this time, it's not those of us in Europe that are suffering, it is amateurs in the USA and in particular, in areas where European tourists congregate.
What would be the worst possible frequency to interfere with? Probably the calling frequencies which in Europe are 433.500 for FM (already messed up with the aforementioned low power devices) and 432.200 for SSB. But hang on... US amateurs have a wider 70cm allocation, from 420 to 450 MHz and... their FM calling frequency is 446.000 MHz. So what type of wool have the ERO pulled over the eyes of US amateurs then? PMR 446 of course! Yes, this low power (half a Watt) licence exempt walkie-talkie technology runs on frequencies from 446.000 to 446.100 (and recently extended to 446.200 for digital modulation) -
slap bang
in the middle of the US 70 cms FM calling and working channels.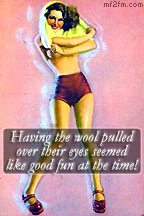 Now obviously, there's little, or no chance, of UHF signals propagating from Europe to the US, so the likelihood of European PMR 446 equipment causing a problem to American amateurs is nil isn't it? Well, if the equipment is used in Europe there is no chance of interference. However, if it's taken to the US by European holidaymakers to allow them to keep in touch with each other whilst on the beach, at a theme park, or even whilst lost amongst the endless miles of aisles at Wal*Mart, then yes! And this is just what is happening. Europeans, blissfully unaware that their equipment is operating illegally once taken outside the EU, are using PMR 446 equipment in the USA (and Canada) and, in the process, producing endless interference on the main FM channels.
Somewhere in the basement of the ERO, CEPT or similar, someone is having jolly good fun thinking up increasingly intricate wheezes for messing up the 70 cms amateur bands. What next? How's about sharing the band with a very high powered radar that wipes out reception across most of Northern Europe? Oh, I forgot, they've already done this haven't they...!
1 comment
( 1479 views ) |
0 trackbacks
|
permalink
|





( 3 / 6844 )
How accurate are computer coverage predictions?

Tuesday 17 April, 2007, 15:58 -
Amateur Radio
Posted by Administrator

These days, a lot of radio planning (broadcasting and cellular for example) relies heavily on the ability to use computers to predict coverage from a site. So
Wireless Waffle
thought it would prove an interesting exercise to do some coverage predictions from a known radio station and compare them with actual reception. It's probably worth adding that using a single receive antenna in a fixed location for comparison isn't necessarily fair - reflections could mean that there are strong nulls in a particular direction, though with the antenna mounted nice and high and above most nearby obstacles these effects are minimised.
The prediction tool used is
RadioMobile
, which is a freeware tool designed for radio amateurs and does pretty good VHF and UHF predictions as well as path profiles which can be used to hazard a guess at microwave links too. The 70 centimetre amateur band was used as the test case and the signals from various neighbouring repeaters as the benchmark. Most repeaters have decently sited antennas at a reasonable height and free of local obstructions and so should make for a reasonably accurate prediction.
First off, a scan around the 70cm (433 MHz) band on a day when propagation is flat was conducted, to see which repeaters could be heard and what strength they were. Here's the list (channels not listed are ones on which nothing was heard):
RB0 GB3BN S9+ (Bracknell)
RB1 GB3BV S3 (Hemel Hempstead)
RB2 GB3LV S1 (Ealing)
RB3 GB3HL S9+ (Hillingdon)
RB6 GB3LW S3 (Central London)
RB7 GB3HZ S9+ (Amersham)
RB12 GB3GF S9+ (Guildford)
RB13 GB3VH S3 (Welwyn Garden City)
RB14 GB3HR S9+ (Harrow)
RB15 GB3FN S9+ (Farnham)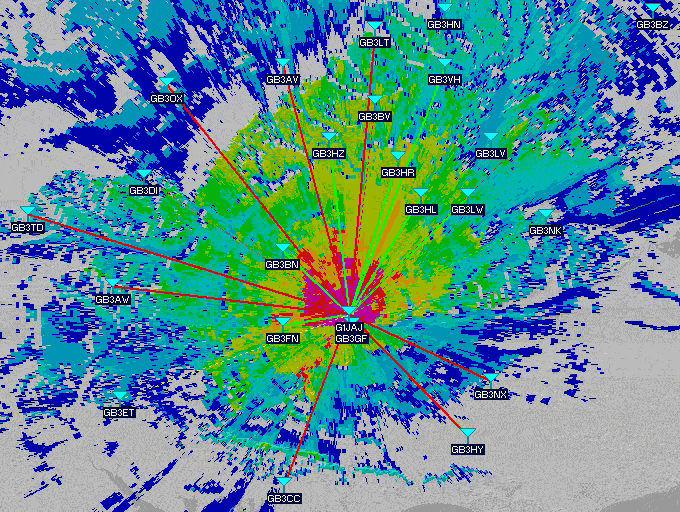 So the question is, could a computer prediction reproduce this set of results? The parameters of the station plus those of all the nearby repeaters (including those that are nearby but which weren't received) were entered into RadioMobile and a plot produced. The results are shown on the right (click to see the full size version).
The easiest way to see what the results show is to look at the colour of the line between the amateur station used and the various repeaters. A solid red line indicates that the prediction shows there to be no possibility of a signal getting through; yellow indicates that reception would be on the fringes of possibility and green indicates that all should be OK. A dotted line shows that the prediction is borderline between two possible outcomes. So here's what the prediction says (ignoring all those which are purely red and thus should be inaudible):
RB0 GB3BN Green
RB1 GB3BV Dotted Red
RB2 GB3LV Dotted Green
RB3 GB3HL Green
RB4 GB3NK Dotted Green
RB6 GB3LW Green
RB6 GB3DI Dotted Red
RB7 GB3Hz Green
RB11 GB3HN Dotted Green
RB12 GB3GF Green
RB13 GB3VH Green
RB13 GB3ET Dotted Yellow
RB14 GB3HR Green
RB15 GB3FN Green
A number of predictions have been highlighted in
bold
as these are at variance with what was borne out in practice. It seems there are 4 other repeaters which should be audible that aren't. Also, GB3BV is shown as very marginal on the prediction yet is a reasonably good signal. However, the prediction has correctly identified approximately the correct likelihood of reception for 9 of the original 10 repeaters being received.
So are predictions any good? From the results shown here, they're not bad, however the relatively simple predictions produced by RadioMobile are probably insufficiently complex to take account of other factors that play a major role in radio propagation such as clutter from trees and buildings. Nonetheless, not a bad result and an interesting illustration of the power of computers.
add comment
( 1340 views ) |
0 trackbacks
|
permalink
|





( 3 / 5412 )