Russia is the Tsar of Pirates

Wireless Waffle
has talked extensively about
pirate radio
in the past, from short-wave music stations, to
Brazilian sat-jackers
. But it seems that, of all the nations on the planet, the Russians hold the baton for being the biggest pirates of them all.
This story begins when reading the
latest intruder report
from the
IARU Region 1 Monitoring System
. The report indicated that there had been an intrusion into the 80 metre amateur band between 3.5 and 3.6 MHz by Russian pirate stations running AM. Now historically the Voice of Korea (the North Korean broadcaster) has been transmitting in the 80 metre band (or the 75 metre band as it's called in in North America) on 3560 kHz in AM and the immediate assumption was that these new signals couldn't possibly be Russian pirates, but must be the Voice of Korea and perhaps a few other stations trying to jam it. The IARU report, however, says that the carriers are very unstable and that the modulation is voices in Russian.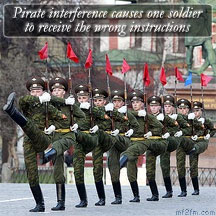 So the only thing to do to verify this story is to turn on a receiver and have a listen. Having done this, there were no obvious signals in the 80 metre amateur band. Having previous heard pirates just below the band at around 3450 kHz, the tuning dial was slowly rotated to ever lower frequencies. Nothing. And then, at 3175 kHz, something. A weak carrier... no, two carriers alternating... both rather unstable in frequency. Switching the receiver to AM yielded weak modulation. A bit more tuning, to 3125 kHz and a much stronger AM signal with a Russian voice and a wobbly carrier. Hey presto!
But what are these odd signals? Are they military operators in a private net (if so, why AM and why unencrypted)? Are they some kind of harmonics or
intermodulation
? Googling didn't bring much until a page on
Sparky's Web Blog
was found. It seems that these are effectively the equivalent of Russian CBers but presumably using much lower frequencies given the large distances between Russian cities. The band is known as the тройка band ('troika' in English which has several meanings from 'three of a kind' to a sledge or fairground ride). The band runs from approximately 2900 to 3200 kHz which are internationally allocated to the Aeronautical Mobile and Mobile services.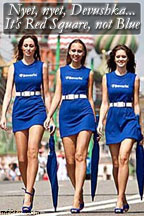 There are aeronautical frequency assignments in the band (2872, 2899, 2921, 2962 and 3016 are frequencies assigned to North Atlantic traffic for example), but these lower frequencies are less often used unless propagation makes it totally necessary. Oddly, the various frequency lists for the band show very little aeronautical use in Russia (other than Irkutsk on 3016 kHz) - a coincidence? Probably the pirates know this and therefore feel free to mess about in the aviation bands, knowing that the Russian authorities are likely to be little interested in their activities.
If you're in Europe, when it gets dark (and lower frequency propagation opens up over the continent), why not give them a listen. It's fun to chase the carriers up and down in frequency. If you speak Russian, perhaps you could provide some translation as to what on earth they are talking about!
P.S. You might also want to take a listen to 2920 kHz USB as this seems to be a common calling channel for the more technically adept Russian pirates.
add comment
( 1234 views ) |
0 trackbacks
|
permalink
|





( 3 / 52259 )