Pirate radio to go digital

The number of
pirate radio
stations on-air in London does not appear to have diminished over the past 10 or more years, despite there now being many legal ways in which stations could reach their audiences, most recently though streaming audio on-line.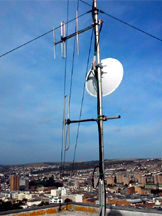 Ofcom has recently proposed that many local radio stations could be accommodated on '
small scale DAB
' transmitters which provide a localised service, and it is conducting a number of trials around the UK of such a service. The idea is to use low cost hardware and software to develop the DAB signals, for example using a
USRP
software radio, and the various software tools provided by the
Open Digital Radio
project. Using these, it is possible to put a (very) low power DAB station on-air for less than GBP1000 and with a suitable power amplifier (for example a
30 Watt Mitsubishi amplifier module
, or how's about a
1.2 kW amplifier module
), a DAB transmitter with reasonable coverage can be built for not that much more. Indeed
research conducted for Ofcom
suggests that a 100 Watt e.r.p. service using such technology could be provided to broadcasters for around GBP1400 per year (at a bit rate of 160 kbps which is far higher quality than most of the existing UK DAB services!)
An article in spectrum newsletter PolicyTracker entitled, '
Can DAB save us from the pirates?
' (
note - a subscription is required to read the full article
), makes the point that the criteria which the UK has set to begin the digital switch-over of radio services (e.g. the turning off of analogue services in favour of digital) is almost upon us. The criteria is that 50% of UK listening should be on a digital platform (whether DAB, on-line, cable, satellite or other) and the latest figures show this is now up to 43%, though as
Wireless Waffle
has pointed out before,
the proportion of digital listening appears to have stagnated
. If the UK does set a date for the winding down of FM radio, one of two things could happen:
pirates may move to digital platforms, in order to be found on the same dial as other stations; or
pirates may take the opportunity of an emptier FM band to choose clearer frequencies, increase their power, or just increase the number of services.
The problem is that in either case there is no guarantee that the pirates would do this in a legal fashion. Pirate radio stations are not renowned for co-operating with each other so why would they pay to be on a DAB platform, rather than buy the equipment themselves and set up digital pirate stations? The answer might come in the form of the reduced number of frequencies available. In the FM band, assuming a station every 300 kHz (which is just about OK from an interference perspective), there is room for 68 stations on the dial. Taking into account the 20 or so legal stations already on-air in London (depending on what you count as London), this leaves a potential for 48 pirates. For DAB radio, which requires 1.4 MHz of spectrum to operate, there is room for just 32 transmissions in any one location. In London 4 of these frequency blocks are in use, leaving 28 'available'.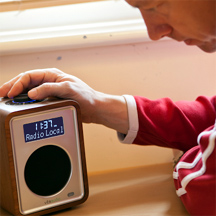 "Ah", you say, "but each DAB multiplex can carry 10 or more stations, so really the number is 280". That is true, but this requires the pirates to club together to buy and operate the equipment and, as already stated, they aren't that good at this. Perhaps the business model they employ could change, and a smaller number of illegal transmitter operators could provide services to multiple pirate stations. Or perhaps a small number of
legal
transmitter operators could provide the same service. The problem here seems to be that in order to legitimise the pirates, they would have to be invited to 'come in from the cold', and Ofcom would have to have a set of licensing policies that were sufficiently lax to permit 24 stations all playing the same kind of electro-shed, play-house or garage-door music onto the dial. It is almost certain that the existing legitimate stations would object to this on the grounds that it would provide unfair competition. But the fact is that such competition already exists on the FM band, and at least if it were done under a licensed framework, there would be some control over what went on, and thus greater protection of the existing 'big boys'.
Maybe Ofcom could take a leaf out of the book of the Lebanese regulator (the TRA) who offered all unlicensed FM operators (which was a large proportion of the country's stations at the time), a licence, if they came forward and provided the necessary details of their transmitting facilities (power, frequency, antenna height and so on). Most stations did this, wishing to gain legitimacy for their service. As soon as they did, however, the TRA could begin to change frequencies, powers and so on to bring the stations in-line, through a proper legal framework that allowed them to inflict penalties if people refused.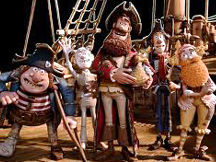 Another model might be for Ofcom to licence small-scale DAB operators, but not to set any criteria over which stations are carried on the multiplex, other than their normal
broadcasting code
which is designed, for example, to stop politically motivated stations from using the airwaves in an partial way. Other than a bit of swearing here and there, most pirate stations would probably already meet most of the rules. This is not dissimilar to the way in which Ofcom licenses digital television, with multiplexes being awarded to companies who are then largely at liberty to select which programmes they include.
In either of the above cases, whether the idea that Ofcom could have an 'amnesty' for pirates, if they agreed to go onto small DAB multiplexes, or if the operation of the DAB multiplexes were made flexible enough to accommodate pirate stations being on them, there might be a sufficient increase the listening to DAB services such that the necessary 50% switch-over threshold is reached sooner rather than later. A 'win-win' situation?
4 comments
( 201 views ) |
0 trackbacks
|
permalink
|





( 3 / 1486 )