Why-Fi No-Fly Zone

Various news web-site including
CNN
and the
BBC
report that American Airlines flight 136 due to fly from Los Angeles to London on October 26 was delayed by almost a day when a passenger sitting on the aircraft noticed a WiFi network named 'Al-Quida Free Terror Nettwork'. As a result, the aircraft was emptied and a search conducted by US Customs and Border protection officials but the source of the offending WiFi signal was never found. No doubt the misspelling of 'Al Qaeda' and 'Network' enhanced the level of terror indicating, as it does, that the person who set up the network was potentially:
someone for whom English was not their first language;
a dimwit whose IQ was far below average;
someone with scant regard for spelling in an infidel's tongue; or
a person deliberately trying to mask their true intentions by appearing as one of the above.
Any of the cases above would no doubt strengthen a belief that the network was established by a terrorist group to whom any and all of those characteristics could apply.
As the BBC notes:
Many broadband subscribers re-name their home wi-fi network to personalise it.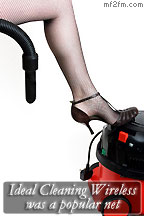 Back in 2007,
Wireless Waffle
undertook a
survey of WiFi channel usage
which found networks with such kooky names as 'Gary Barlow', 'Slapheads Network', 'Toast' and 'Fraudulent'. The practice of personalising WiFi network names (or
SSIDs
as they're technically known) is not a new one and whilst naming a network after a terrorist organisation is clearly a very bad idea (especially whilst at an airport) there's no law against it. If just setting an SSID to such a name can disrupt flights at a busy airport, then it opens the door to widespread misuse of, for example, the WiFi tethering options on mobile phones, to conduct all kind of Rabelaisian ruses.
Many airports and other major venues and events (such as at the
London Olympic Games
) use radio spectrum monitoring equipment to check for people using unlicensed frequencies as the wireless landscape in such places is very complex with many networks sharing neighbouring frequencies. Careful planning is essential to ensure that the myriad of users do not interfere with each other (especially to the safety critical air-ground systems for example) and monitoring is vital in keeping the airwaves free of signals that could cause problems.
Maybe airports and other establishments that might be the target of people intent on causing havoc with their naughtily named WiFi SSIDs could take a leaf out of
the book of Marriott
and also install WiFi monitoring systems that would allow naughty network names to be traced and closed down before they caused multifarious mayhem.
1 comment
( 811 views ) |
0 trackbacks
|
permalink
|





( 3 / 941 )
All Are Bored with On-Train Wifi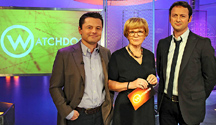 Last night's
BBC Watchdog
programme discussed the issue of the apparently poor WiFi connectivity available on a number of inter-city train routes across the UK. The programme conducted a survey of the paid-for WiFi service of three long-distance train operators. They measured the percentage of the journey for which a connection was available, and the time it took to download a short file. The average results, together with the current tariffs for WiFi on the three train companies surveyed are shown below.
| Train Operator | Connection Available | Time To Download A File | Price |
| --- | --- | --- | --- |
| Cross-Country | 96.7% | 39 seconds | £2 for 1 hour, £8 for 24 hours |
| East Coast | 79.4% | 13 seconds | £4.95 for 1 hour, £9.95 for 24 hours |
| Virgin Trains | 82.2% | 112 seconds | £4 for 1 hour, £8 for 24 hours |
WiFi services on trains are provided by using antennas on the roof of the trains to connect to mobile networks. These mobile internet connections are then shared amongst all the WiFi users on a train. Companies such as
Icomera
and
Nomad Digital
provide boxes that enable multiple mobile internet connections to be combined together to increase the speed of the connection as a single 3G or 4G connection is not going to cut it when shared between multiple WiFi users.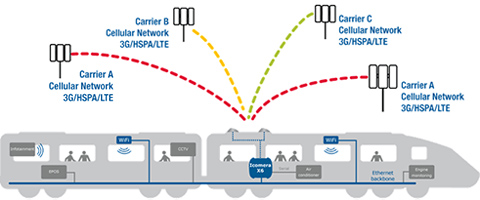 In the programme, self-proclaimed IT Guru
Adrian Mars
then goes on to explain that the problem with the East Coast and Virgin services is that they make use of the signal from just one mobile operator and share that amongst all the WiFi users on the train, whereas Cross-Country use connections from multiple operators. This would explain why the time for which a connection was available on Cross-Country's WiFi service was so much higher than on the other two, as they can make use of the overlapping coverage provided by multiple operators.

It is also true to say that many of the UK's inter-city train routes pass through very sparsely populated areas, as well as tunnels and deep cuttings, where there is unlikely to be much in the way of a mobile signal. Given the different routes taken by Cross-Country, East Coast and Virgin Trains it is therefore unfair to directly compare them as each route will have a different proportion of these hard-to-get-at areas. 3G and 4G mobile networks also don't work as well at high speed and (usually) trains travel at speeds that are fast enough to begin to affect performance.
Where the Watchdog's IT guru did go astray was to suggest that it might be better for train passengers to rely on the connection to their own mobile phone for internet rather than the on-train WiFi. Why is this wrong? There are two main reasons. Firstly, the antennas used by the on-train WiFi systems are mounted on the train roof, whereas your phone will be lower down, inside the carriage. A previous Wireless Waffle article highlighted the need to
get high
to improve reception and the signal on the roof of the train will be bigger than that inside by dint of this fact alone.
But there is a much bigger problem… trains are typically constructed of metal. Some, including Virgin Trains'
Pendolino
trains, have metallised windows. Passengers are thus enclosed in a
Faraday cage
which will do a grand job of stopping any signals on the outside of the carriages from making their way into the carriages. According to a
paper written by consultants Mott MacDonald for Ofcom
:
In modern trains the attenaution[sic] can be up to -30dB.
This means that of the signal presented to the outside of the carriage, only one thousandth of it makes it inside the carriage. Add this immense loss to the difference in height between the roof-mounted antenna and you sat in the carriage and it becomes apparent why using your own phone is highly unlikely to yield a better connection than that available through the on-train WiFi.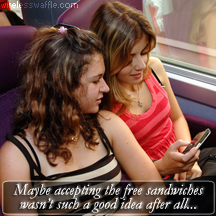 The Watchdog team suggested that due to the poor quality of the on-board WiFi it should be offered for free instead of making passengers pay. Many fare-paying train passengers would no doubt express a lot of sympathy with this suggestion. The cost to the rail companies of doing this is not trivial. East Coast, it was claimed, are upgrading their on-board WiFi to the tune of £2 million which compared to the paltry £7m profit they made in 2012/13 is quite a bite. But given the choice of free sandwiches (whose quality is as notoriously dubious as that of the WiFi connection) or free WiFi, most would surely prefer to enhance their digital diet instead of their gastronomic girth.
add comment
( 592 views ) |
0 trackbacks
|
permalink
|





( 3 / 938 )
H comes after E, E comes after G...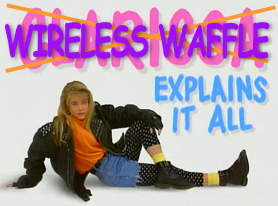 When using your mobile phone, smart phone or tablet have you ever noticed that next to the signal strength bars (usually found at the top of the screen), there is often a letter (or two) that seem to change almost at random as you move around, and even sometimes when you aren't moving at all? Have you ever wondered what these letters are there for and what the implications of them changing from one letter to another are? Well wonder no more because the answers are about to follow, as
Wireless Waffle
explains it all...
| Letter(s) | Meaning | Typical Connection Speed | Explanation |
| --- | --- | --- | --- |
| E or EDGE | EDGE | 50-60 kbps | This is also 2G and the second slowest connection - theoretically up to 384 kbps but almost never this fast. Think 'dial-up' internet (if you can remember back that far). |
| 3G | 3G | 80-100 kbps | This is the original 3G mobile system and is good (compared to GSM) but still not brilliant. |
| H | HSPA | 0.5-2 Mbps | A truly broadband wireless connection with good real-life connection speeds. |
| H+ | Evolved HSPA (or HSPA+) | 2-8 Mbps | An even faster connection, might even be termed 'zippy'. |
| 4G | LTE | 5-20 Mbps | The fastest connections available today. |
| R | Roaming | - | Beware - this means you are connected to a network outside your home country and data costs could be astronomical! The R is sometimes shown in a triangle. |
| X | No signal | - | On some phones, an X appears above the signal bars if there is no signal at all. |
Note that the typical connection speeds given above are those that are generally achieved in real-life. Though in theory the technologies used can offer faster connections, much depends on how many users are in a cell and what they are doing, how close to the centre of the cell you are, whether you are stationary or on the move, and a whole host of other factors.
Arrows (sometimes coloured, and sometimes integrated into the signal bars) pointing up and down are also illuminated. This just shows whether you are downloading (the downward arrow) or uploading (the upward arrow) data to the mobile network.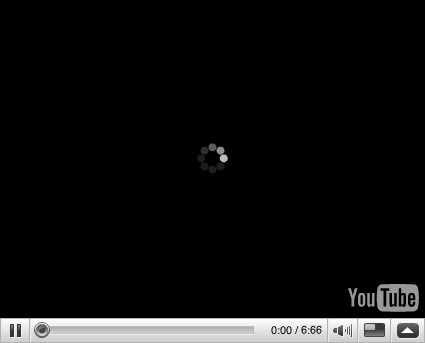 In addition, the number of bars shown on your signal meter will also affect how good your connection is. So a '3G' connection with all signal bars lit might be better than a 'H+' connection with only one bar lit. However a full strength signal may not necessarily mean a fast connection as most phones show the 'strength' of a signal and not the 'quality' It's quite possible to have a full strength signal that's suffering lots of interference and thus is bad quality.
What does any of this matter? It doesn't really, but if you are wanting to view a YouTube video and your phone is showing 'G' or 'E', the chances of you getting a fast enough connection are virtually nil.
2 comments
( 406 views ) |
0 trackbacks
|
permalink
|





( 3 / 798 )
Marconiji and Elastic-Magneto Waves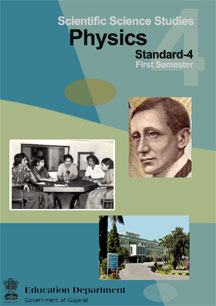 It has been widely reported with great delight across India and in the world-wide media that the Level 8 Social Science school text books being given to children in the Indian state of Gujarat
contain many inaccuracies
. Examples of these heinous inaccuracies include 'factlets' such as these gems:
It was Japan that dropped a nuclear bomb on America during World War II (and not vice versa).
Carbon Trioxide (CO3) has increased due to the cutting of trees (CO3 is highly unstable but can be made by blowing ozone at dry ice).
That after the partition of India in 1947, a new nation called 'Islamic Islamabad' was formed whose capital was Khyber Ghat (and not that Pakistan was formed with a capital Islamabad).
Wireless Waffle
has managed, through a contact living in the state, to get hold of a copy of the Level 4 Physics book used in classrooms across Gujurat. Like its social science bretheren, it is also chock-full of errors and mistakes. For example, it claims that:
Indian inventor Guglielmo Marconiji (pictured right) discovered the elastic-magneto wave and his brother, Luigi, is the source of the character in the SuperMario game.
Elastic-magneto waves travel at the speed of steam, which is generally taken to be 100 km per hour.
The first radio station in India went on-air in 1748 and was called 'Bhapa Stesana Bharati' (Indian Steam Radio), as it used steam engines to generate the elastic-magneto waves. The signals from this station will not reach the moon until a week next Tuesday, if the timetable doesn't change.
Phones work by transferring ear molecules between those speaking. Conference calls are a modern invention because of the need to clone ear molecules to be heard in several places at once.
Laughable as these 'factlets' may seem, there are many, much worse, part-truths that are espoused by those who ought to know better... Here's looking at you, ITU!
add comment
( 269 views ) |
0 trackbacks
|
permalink
|





( 3 / 740 )